Now that 2018 is upon us, it's the ideal time to sit down and take a look at what the mobile world has thrown at us this year. It's no secret mobile has become an integral part of our everyday lives but it's important to stay abreast of the latest mobile devices and technologies in this rapidly changing landscape so you can hit the ground running in 2018.
Here at DeviceAtlas we follow all the latest news in the mobile world as well as producing our own mobile intelligence reports. To make it easier for you, we've curated a list of the most important mobile statistics which show the direction the industry is evolving in 2018. Read on to find out what's the new in the mobile industry, what's driving mobile activity, how has mobile advertising fared this year, and much more.
1. Over half of mobile users own a smartphone
According to the latest figures from Statista, the number of mobile phone users in the world will reach 4.9 billion in 2018. This will be driven by the increasing popularity of smartphone usage which is set to reach 2.5 billion next year. That means next year over half of all mobile users will be smartphone users for the first time.
Interestingly, GSMA Intelligence has found that we have already surpassed the 50% mark. This is also backed by eMarketer, reporting that nearly 54% of mobile phone users worldwide are expected to have a smartphone by the end of 2017.
2. Asia Pacific will be core to mobile subscriber growth
China and India alone have over 1 billion mobile subscribers and both of these countries will account for nearly 50% of mobile subscriber growth from 2017-2020.
This is due to the increasing affordability of smartphones from local manufacturers such as Huawei, Oppo and Xiaomi.
3. Huawei surpasses Apple for the first time
Reported back in July this year by Counterpoint's Market Pulse, Huawei has now overtaken Apple in global smartphone sales for this first time making it the second largest smartphone maker in the world. The increasing popularity of Huawei phones is believed to be due to their large displays and advanced camera functions.
Get access to a free, trial version of DeviceAtlas.
Although this new position may be temporary ahead of Apple's annual iPhone releases, this is seen as a significant achievement for Huawei who have reaped the rewards of not only design and manufacturing improvements but also more sophisticated go-to-market and promotion strategies.
Source: 1
4. Android surpasses Windows for the first time to become leading OS
According to StatCounter, Android overtook Windows as world's most used operating system this year with a global OS share of 37.93%. This growth has been driven by developing markets where smartphone usage has outstripped PC usage, particularly in Asia.
Diving into the mobile device space only, similar conclusions were found in the
DeviceAtlas Mobile Report
for Q2 2017. Results showed that Android was the leading mobile OS in Q1 2017 with a massive market share of 85%, while for iOS the market share was only 14.7%. Slightly lower numbers have been reported for Android as the year has progressed from NetMarketShare but Android continues to dominate in the mobile space.
5. 4.7-inch and 5-inch screen sizes most popular
The DeviceAtlas report for Q2 2017 also looked at the most used diagonal screen sizes in different corners of the globe. Generally speaking, 4.7-inch and 5-inch phones were the most common, though some regional differences are clear, depending on the market.
For countries where iPhones are particularly popular, the 4.7-inch size is getting a lot more share than elsewhere due to the huge user base of the three 4.7-inch iPhone models. For countries where Android is more popular, other diagonal screen sizes are typically getting more share including 5-inch, 5.1-inch, and 5.5-inch.
Source: 1
6. Qualcomm top chipset vendor for Android devices
Continuing the source of information coming from DeviceAtlas reporting, our latest stats show that Qualcomm (who have recently rejected a takeover bid from rival Broadcom) is the most used Android chipset vendor in the world. The chipset vendor has 30% market share in countries like Brazil, Germany, India and the USA.
Source: 1
7. 80% of top Alexa websites use Adaptive Web Design
This year web dev resource site mobiForge reported that as much as 80% of the top 100 websites according to Alexa used Adaptive Web Design (AWD) or server-side adaptation to cater to different device types.
Furthermore, analyzing the top 10 Alexa websites, mobiForge found 90% of them were use AWD compared to 80% in 2012. This indicates there is recogniton that AWD (and server-side device detection) is a core optimisation technique when it comes to addressing mobile visitors optimally on every device.
8. Mobile page speed not increasing
In 2016, Google's DoubleClick found that the average load time for mobile sites is a whopping 19 seconds. Worryingly, research body Think with Google conducted a similar study this year of 900,000 mobile ads' landing pages and found that the average load time was 22 seconds.
The majority of the mobile sites were slow and bloated with too many elements which have a major impact on the next point.
9. Bounce rates rocket and conversions drop for each second your page takes to load
According to research from Compass, bounce rates go up to 50% if your page takes 2 extra seconds to load. Actual conversions fall by 12% for every second it takes your page to load. To put it another way: if your business is making $100,000 on your site every day, an improvement of just 1 second in page speed could mean an increase in revenue of $4.3 million every year.
Think with Google found that that the probability of a bounce increases by 106% if a load time is just 6 seconds. In short, mobile page speed equals revenue.
8 Myths About Mobile Optimization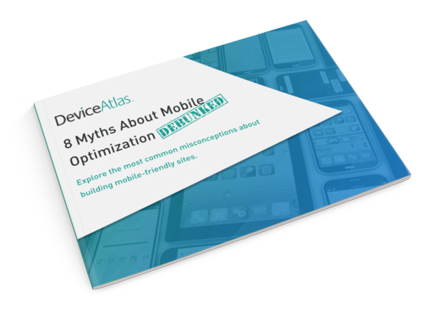 Explore the most common misconceptions about building mobile-friendly sites that really improve UX on different devices.
10. Time spent on mobile still increasing
Digital usage will reach 5.7 hours per day in 2017, an increase of 0.3 hours (or 18 mins) from 2016. Decreases in usage of desktop and laptop are being partly offset by increased usage of mobile.
Mary Meeker presented the breakdown in digital usage from 2008 onwards. Mobile usage has accelerated from 0.3 hours in 2008 to 3.1 hours for 2017.
11. Mobile advertising revenues hit $83 billion
The latest figures from the Internet Advertising Bureau (IAB) show mobile advertising growth continues to accelerate and increased 60.5% to $83bn in 2016 from $52bn in 2015, with mobile display continuing to drive investment.
This is solid confirmation that companies are operating in a mobile-first media consumption and advertising environment and are allocating more dollars to digital advertising. As reported by Statista, mobile advertising revenue is set to increase by 100% by 2019. However, Mary Meeker found that the percentage of mobile advertising spend has still not caught up with the percentage of time people spend on mobile media, with a $16 billion untapped opportunity being reported.
12. Most conversions still occurring on desktop
Monetate, an optimization, personalization and testing software company, conduct quarterly reports of their retail clients showcasing the latest averages for ecommerce metrics. In Q2 of this year, desktop had the highest conversion rate globally with 3.83% followed by smartphone (3.38%) and then tablet (1.34%). Similar numbers were also reported for add-to-cart rates.
The numbers indicate that e-commerce companies still have plenty of work to do if they want to maximize conversion rates on mobile devices, especially if media usage on mobile is higher than desktop.
Source: 1
13. 78% of shoppers will ignore a retailer's offer if it is not personalized
Mobile, no doubt, is eating into the ecommerce world when it comes to traffic, but retailers have yet to figure out how to turn the device into a point of conversion. This is a critical point for retailers as Monetate found that 78% of shoppers won't even act on a retailer's offer unless it has been personalized to their previous actions with the brand.
Also, 88% of shoppers say they're more likely to shop with retailers that deliver personalized and connected cross-channel experiences.
14. 197 billion mobile apps downloaded this year
With Android dominating the mobile OS market, it comes as no surprise that their app store had the most downloads in 2016, hitting the 90 billion mark according to App Annie. The total number of iOS app downloads in 2016 was 25 billion.
Looking forward, the total number of app downloads for 2017 is forecast to be 197 billion.
15. Apps dominate mobile usage
As we learned in stat no. 10, mobile activity is starting to dominate overall digital minutes but where is this mobile activity coming from? According to comScore the percentage of mobile minutes spent on mobile apps is between 80%-90% in the USA, UK, Canada, Spain, China, Italy, Indonesia, Brazil and Mexico.
Yahoo's Flurry also reports that 90% of consumer mobile time is spent in apps. As they put it: It's an App World. The Web Just Lives in It. Similar numbers were also reported by Nielsen.
16. Dynamic in-app ads improve conversion rates
For in-app advertising, Mary Meeker tapped into Vungle data to demonstrate how dynamic creative in-app ads can improve conversion rates. For each hundred dynamic ad variations, the conversion rate improved, with the final conversion rate being 0.5% for a total of 500 ad variations.
The key takeaway was that in order to produce a significant level of uplift, many ad variations need to be created based on user context. Ad formats directly impact conversion rates.
17. The most searched for industries by mobile users
Mobile devices account for nearly 50% of online searches for almost every major industry today, according to Hitwise. But what are they searching for? Hitwise's study revealed some of the most searched industries. Here's the top 3:
1. Food & Beverage - 72%
2. Health - 68%
3. Sport 68%
18. Digital media helped drive $1 trillion in offline sales
As we discovered previously, desktop has a higher conversion rate than mobile - not a great sign considering mobile minutes spent on media has surpassed desktop. But don't panic just yet. According to Forrester, mobile devices helped drive roughly $1 trillion in offline retail sales in 2016.
The reason for this is that consumers depend on mobile phones to research products more than they do to make purchases, making it even more vital for businesses to invest in mobile more.
Get Instant access to a DeviceAtlas Cloud trial
DeviceAtlas Cloud offer a great way to start detecting mobile device traffic to your site:
Optimize website content for mobile, tablet, and other devices
Boost website loading time and minimize page weight
Handle traffic from any device as you want
Get started with a DeviceAtlas Cloud trial today.