As 2018 draws to a close, let's take a look at what the next twelve months may bring to the world of smartphones, mobile advertising, the internet at large and everything in between.
Citing industry experts and professional reports, as well as our own research and opinions, we'll revisit the list in a year to see just how wrong we were.
1. Smartphone sales will continue to slow
It's probably no surprise that the most popular smartphone in many countries across the world is 2016's iPhone 7. Many users see no benefit to upgrading when their device still performs well (and recieves timely updates from Apple), and with top-end prices soaring above the $1,000 mark, the jump seems less and less beneficial to the average smartphone user.
In February, Gartner reported that Huawei and Xiaomi were the only vendors in the top five to experience growth in the fourth quarter of 2017, meaning the big two - Apple and Samsung - lost market share. Overall, Q4 2017 sales were down 5.6% on Q4 2016.
More recently, IDC claimed global smartphone shipments were down 6% in Q3 2018.
We agree with many experts' predictions that sales of smartphones will continue to decline, hopefully leading to increased innovation as OEMs try to attract their users' hard-earned cash. Fancy marketing alone no longer cuts the mustard, and in an increasingly crowded space, with Chinese manufacturers also making a steady push for market share (Huawei is now second behind Samsung), a slowdown in new smartphone sales seems not only inevitable, but logical given the improvements in the technology over the last few years.
2. People will spend even more time online
According to industry oracle Mary Meeker, we can expect people to spend even more time online in 2019.
In 2017, US adults spent 5.9 hours on digital media each day, of which 3.3 hours were on their mobile devices. As this increases, and people slowly move away from traditional TV viewing in their down-time, the possibilities for mobile and OTT advertising will continue to increase.
If advertising is your thing, now would be a great time to look into an accurate, reliable device detection solution. People check their phones up to 200 times each day, so make sure you get their attention.
3. Mobile ad spend will increase by 23% (v 2018)
Given the previous prediction, it's no surprise that mobile ad spend is expected to increase in line with hours spent on a mobile device.
The chart below shows eMarketer's US spend predictions 2016-2022, and the shift from laptop/desktop to mobile can be clearly seen. 2018 is the first year in which over double the amount will be spent on the latter, a whopping $76.17 billion.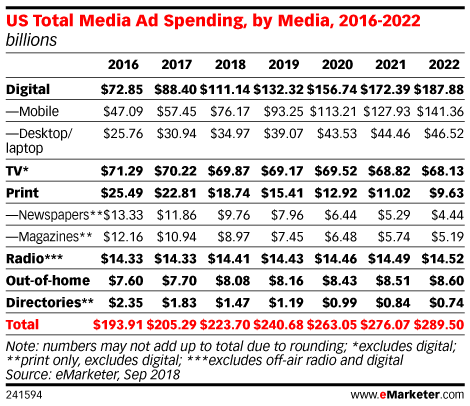 2019 promises an even greater divide, so get your mobile advertising strategy sorted.
4. App store spend will surpass $122B
Largely driven by premium gaming content, worldwide spend on iOS and Android apps will continue to increase for years to come.
Almost reaching $60 billion in 2016, total app store purchases may approach $120 billion in 2019 according to AppAnnie.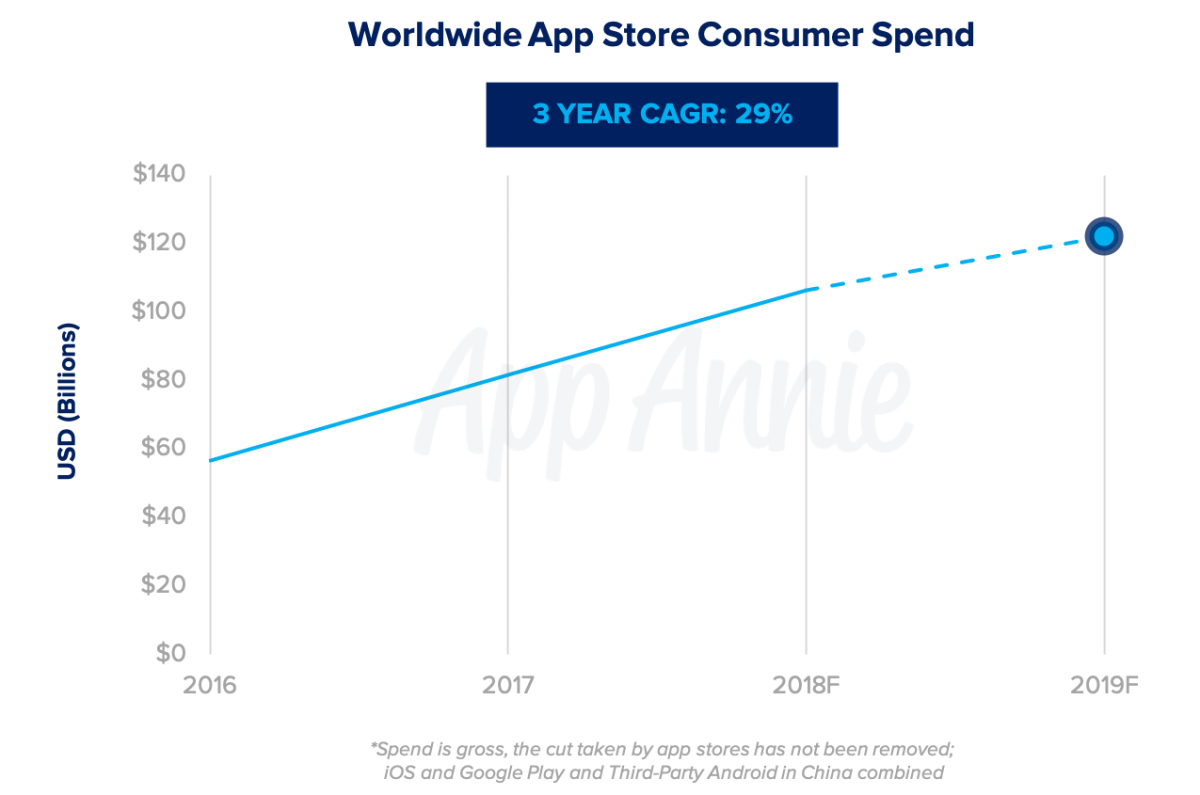 As smartphones become more powerful - some already outperform many laptops - the possibilities for immersive gaming, previously exclusive to consoles and laptops/desktops, has arrived in our smaller, portable, hand-held devices. This means more games, better apps, and a willingness to pay for content.
It's not just games, however. Paid health and lifestyle apps are gaining in popularity, as well as photo/video editing, tuition and education apps, and Goat Simulator, currently 14th in the list of paid apps in iTunes UK, which neatly falls between categories.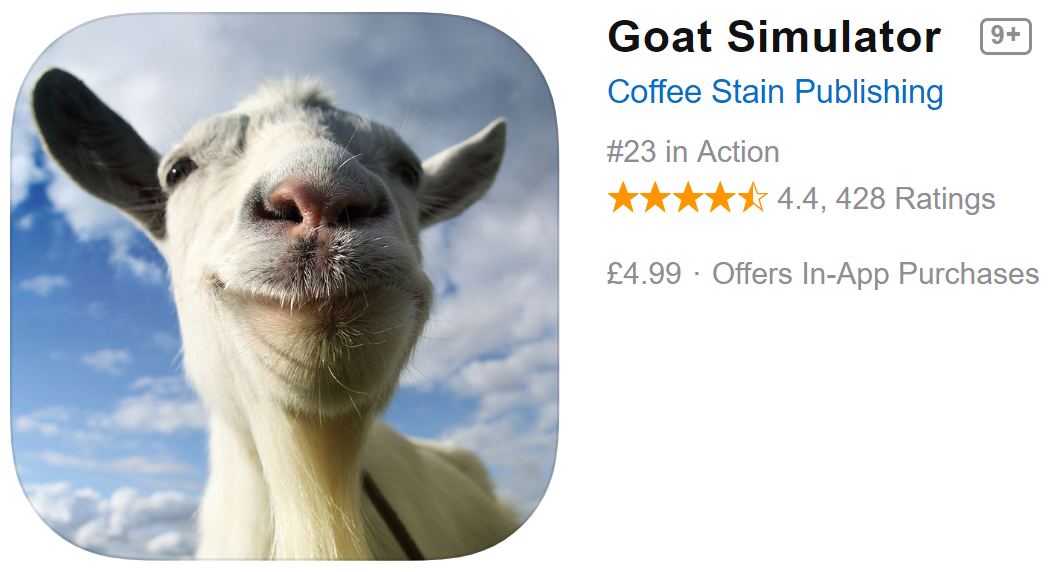 This is great news for app developers, and yet another reason to ensure your device detection strategy is fit for purpose, preventing sub-optimal experiences for your current and potential customers alike.
5. Mobile gaming will grow to 60% market share
To add to the previous prediction, AppAnnie also predict that spending on games in app stores will reach 60% of the total gaming spend across all platforms - PC/Mac, console, handheld and mobile. That's a huge chunk of a massive market.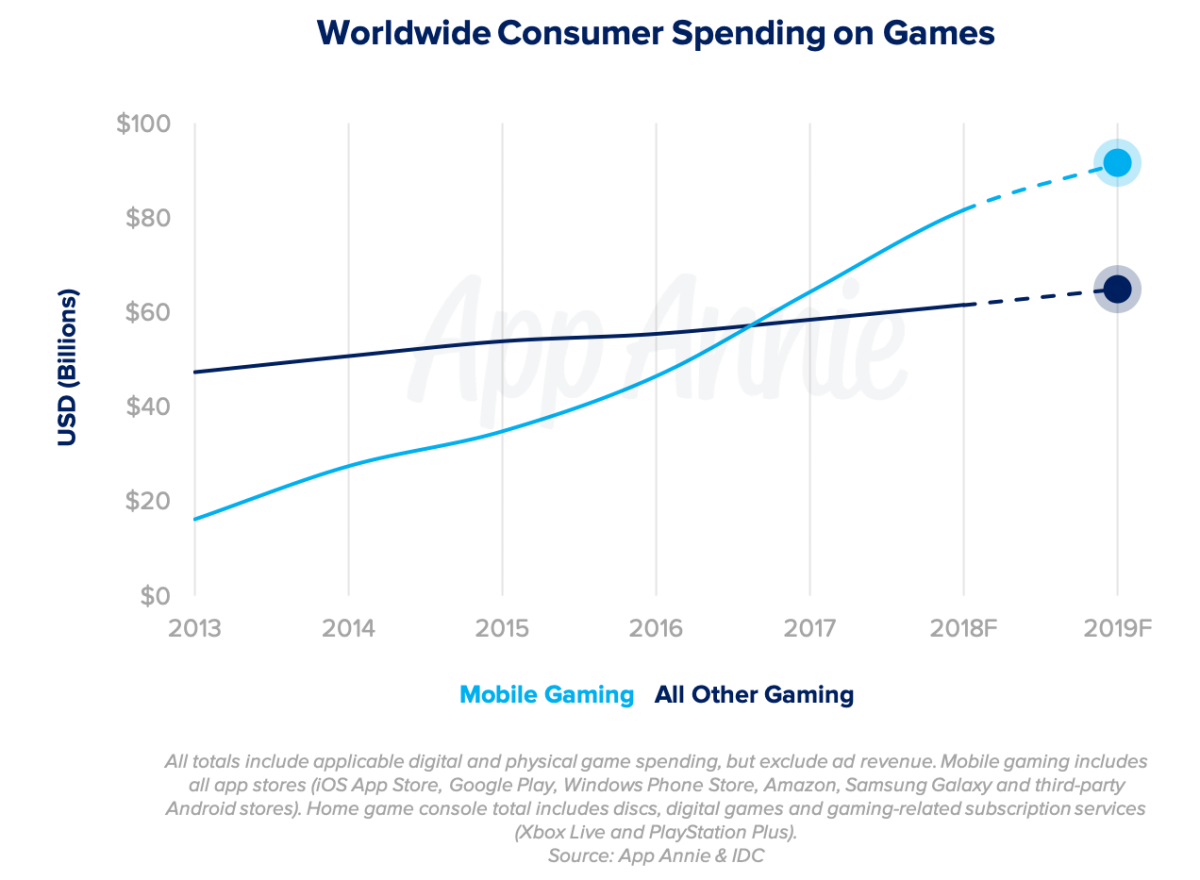 Games like Fortnite and PUBG helped the public's perception of mobile games reach that of traditional consoles, with improvements in hardware and cross-platform functionality also adding momentum. It's not only the blockbuster titles driving downloads and installs - casual gamers are also expected to increase their play-time, favouring less intense, simple, lightweight games to play while commuting, on the bus/toilet etc.
In-app spending figures are included in the overall. Statista reckon that in 2020, $32 billion will be spent in game and apps, a feature of many "free" games which has caused some controversy over the last year. Some liken it to a form of gambling, and "loot boxes" appear to be designed to stimulate similar psychological responses to traditional gambling, so much so that the FTC has agreed to investigate the practice with many other countries going even further and banning them altogether.
6. Video ads will become key
Video content is still rising in volume, and Cisco believe that, in 2019, 58% of US search traffic will be driven by video content.
With the surge in video consumption unlikely to stop, video advertising has a massive opportunity for expanding reach and impact. Content providers such as Netflix have already started testing ads in between episodes (albeit for their own content, for now), so it's safe to assume the space will be opened up to outside advertisers eventually.
It's not just content providers and streaming services that are providing opportunities for video advertising - there's room to expand your brand's reach across social media platforms too.
There has also been a shift away from ads in the traditional format. Big brands are moving to a more natural, storytelling format. Long-form video content gets a brand's message across without being too pushy on the selling aspect. Here are some big-budget, high-quality examples from the likes of BMW, Chevrolet and IBM. Some may find them heartwarming and emotional, others tacky and manipulative, but there's definitely a sweet-spot in there somewhere, and we can expect to see a lot more throughout 2019.
7. Live Video could be a winning advertising strategy
Go-globe.com claim that in 2016, more than 80% of internet users watched more live videos than they did in 2015. Even more striking is the prediction that by 2020, over 80% of the entire internet's traffic will be live streaming.
As smartphones and network quality continues to improve, this is an obvious trend for both consumers and creators of live video.
From a marketing perspective, businesses in crowded verticals are constantly trying to get an edge and put themselves ahead of competitors, and live video would appear to be one such trendy medium in 2019.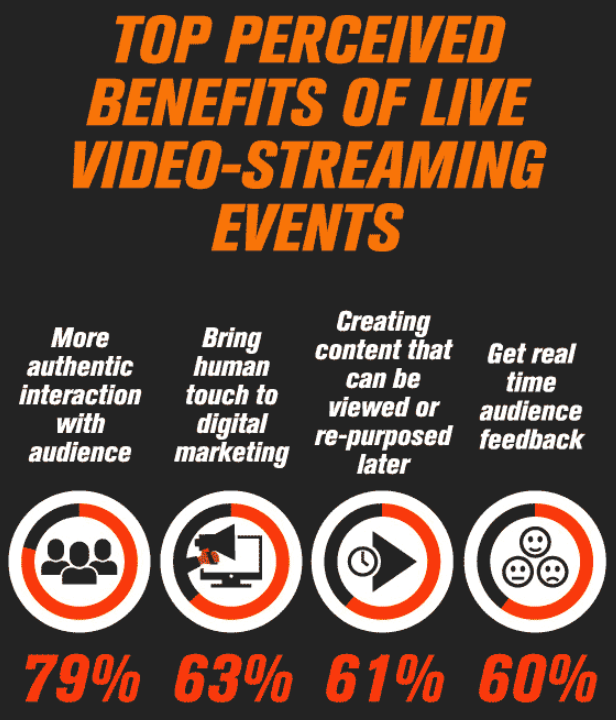 Obviously, not all companies can easily apply this to their products, but therein lies the creative element which underlines all good marketing strategies. If you can make your product or service interesting for a live audience, you should definitely give it a go.
All the cool kids are doing it.
8. Augmented/Virtual Reality may become a reality
AR and VR are attemps to enhance the world around us, or immerse us in an entirely different world altogether, with obvious benefits to the retail industry as well as gaming.
CCS Insight predicted that the industry would be worth $4 billion in 2018, with 24 million VR devices sold worldwide.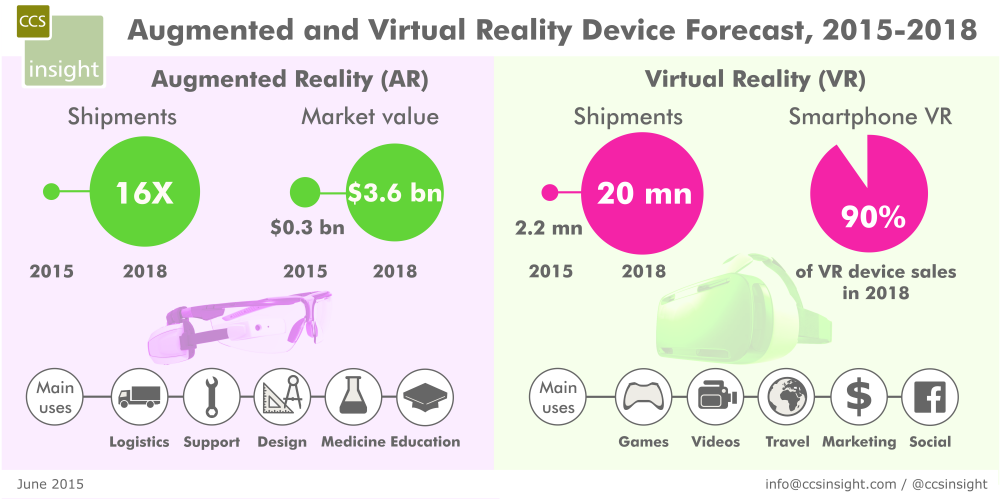 With the biggest companies in the world driving its adoption - Google, Facebook, Samsung and Sony to name four - it's reaching a level where the average consumer, with their "average" smartphone, can get in on the action. This is where the business opportunities lie.
For retailers, the path is clear. Selling items online brings huge profits, but some products, such as furniture, are more likely to be purchased when the buyer can see exactly how they'll look in their living room. By providing an AR feature via their app or website, consumers can try the item out, so to speak, before making the purchase.
For even larger items, such as an entire kitchen , Virtual Reality could immerse the potential buyer in the kitchen. To summarise the benefits, with AR/VR apps:
Users can virtually visualize the products they want to purchase online
Customers can explore a number of virtual showrooms
It gives its customers reasons to visit your store
New levels of in-store engagement
It makes the experience more appealing to consumers
Apple, natural leaders in the area, showed us some pretty cool examples of AR in 2017. They also opened it up to developers by allowing them access to the underlying technology, ARKit. Google followed with ARCore. When the world's biggest mobile OS providers begin competing on a single feature, you know it's going to be big.
9. The Internet of Things will spill into everything
No longer a mere marketing buzzword for solutions seeking problems, the Internet of Things has slowly but surely moved closer to real-world applications beyond WiFi enabled toothbrushes and toasters.
Statista reckon that there will be 26.6 billion IoT connected devices in 2019, with a steep climb over the following years as the tech gets perfected and more uses are discovered.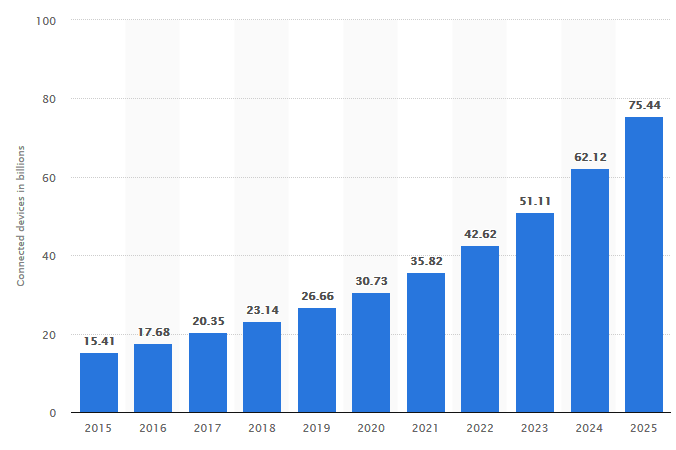 The most visible implementation of IoT can be seen in the emergent "Smart Cities", such as Newcastle, Australia. In April, it was announced that this city would create a mesh of low-powered sensors and devices to enable more efficient services and utilities for the inhabitants, including:
Helping motorists find parking spaces.
Better integrated public transport services.
Enabling council to better manage park and recreation facilities.
More efficient waste collection services.
Providing valuable insights for businesses.
The Newcastle Smart City Strategy seeks to push the boundaries of what's currently possible with IoT devices, and should help push the technology forward where it proves helpful.
Outside its use in civil infrastructure, we'll see sensors and devices applied to schools and hospitals, with further inroads into the retail sector as businesses seek to understand, predict and influence their customers behaviour.
All this progress is unlikely to slip beneath the privacy radar, however. With the entire tech-industry under the gaze of human rights fans and civil liberties organisations, some ideas may simply not get off the ground, no matter how "disruptive and innovative" their marketing material claims. A recent Amazon patent application illustrates this perfectly: Amazon's Disturbing Plan to Add Face Surveillance to Your Front Door.
10. Chinese manufacturers will increase market share
In the face of trade restrictions and import bans, Chinese smartphone manufacturers have taken quite a beating over the course of 2018. They're still well placed to eat into worldwide market share, however, as the quality and price points prove popular with consumers across the globe.
While the US and friends continue to restrict the access of major Chinese OEMs to their markets, the world is pretty big, and companies such as Huawei and ZTE can focus elsewhere. Despite making international headlines (and the bans themselves being driven by the looming 5G infrastructure wars), Chinese-made smartphones only accounted for 3.64% of all US mobile web traffic in our Q2 2018 analysis.
ZTE enjoyed 8.5% market share in Venezuela over the same period, while Huawei claimed over 17% in Poland, 15.89% in Italy and 14.86% in Spain.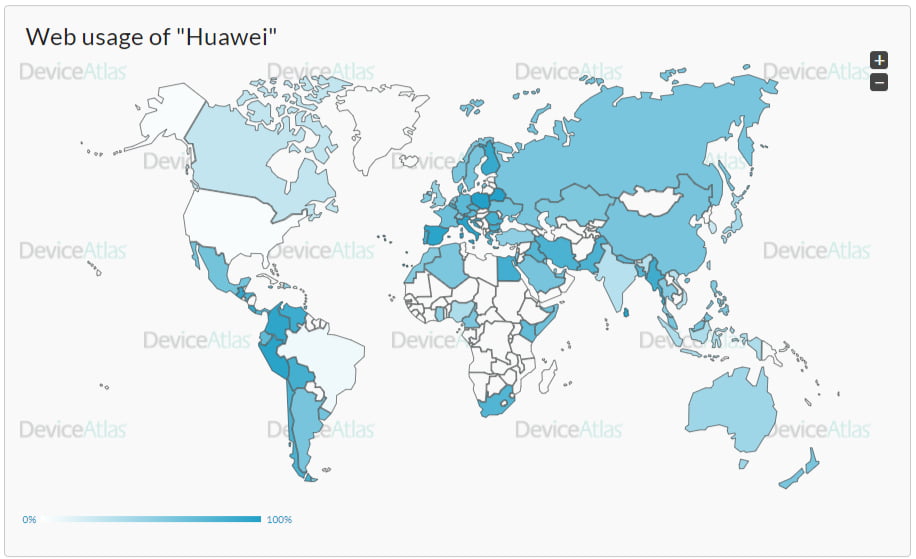 Motorola, now owned by Lenovo, saw relative success in Latin America, with 14.8% market share in Brazil, 11.7% in Argentina and 7.36% in Colombia.
Oppo: 15.58% in Malaysia, 10.37% in Indonesia and 9.64% in Singapore.
Xiaomi: 14.12% in Indonesia, 11.77% in India, 7.44% in Russia.
The point is - Chinese smartphone manufacturers have plenty of alternative countries willing to use their products. Issues of trust are unlikely to disappear from Western media any time soon, but 2019 could be a solid year for Chinese-made smartphones.
11. Cloud Apps will ease the burden on smartphones
The term "cloud" means little to most smartphone users. If they can view an image or video on their device, does it even matter where that piece of media "lives"?
However, with the explosion in popularity of resource-heavy games and applications, increased demands for processing power and storage space may begin to eclipse even the most modern of modern devices. This is where "the cloud" can help.
By taking some of the burden away from people's smartphones, apps and games can run faster, with higher resolutions, and more processes - all handled somewhere off the device. While this relies on sufficient network speed and connection strength, the choice between offering a reduced experience or simply relocating some processes is a no-brainer.
Cisco research claims:
Globally, cloud apps will drive 90% of total mobile data traffic by 2019, and Mobile cloud traffic will be 11-fold with compound annual growth rate (CAGR) of 60%.
12. iOS will increase share worldwide
It's been a good year for Apple.
With most major tech companies taking some kind of flak for security and privacy failings, Apple remianed relatively clean. Android/Google, on the other hand suffered some serious criticism for their location tracking fumble, and while it's unlikely to cause them too much hardship, Apple's stance - not only on user control, but also government decryption and access requests - will stand them in good stead for 2019.
We regularly examine the battle between iOS and Android for global smartphone domination. In our last update (for Q3 2018), we saw a shift towards iOS in many countries, including Canada, Spain, France, Ireland, Germany, Italy, South Africa and the US and UK.
In Japan, which has always favoured iOS over Android, their dominance reached 75.16% market share, and could increase even further.
Japan

There are numerous reasons why iPhones have enjoyed success lately. Timely software updates, even for the older models, means a device can last a lot longer than its Android counterpart, and with the second-hand market for iPhones booming, a refurbished iPhone 7 wouldn't cost as much as a brand-new mid-range Android - but potentially lasts a lot longer.
We believe that iOS will continue to eat into Android's current market share throughout 2019.
For marketing-types familiar with Google Analytics, it's worth knowing that DeviceAtlas can enhance the data you're already getting. Knowing what percentage of your content or app is viewed by iPhones is great, but knowing the exact models and their specifications is even better. With that in mind, we've created a (free!) guide to detecting iPhones.
The Guide To Detecting iPhones
Download our free e-book on User Agents to learn: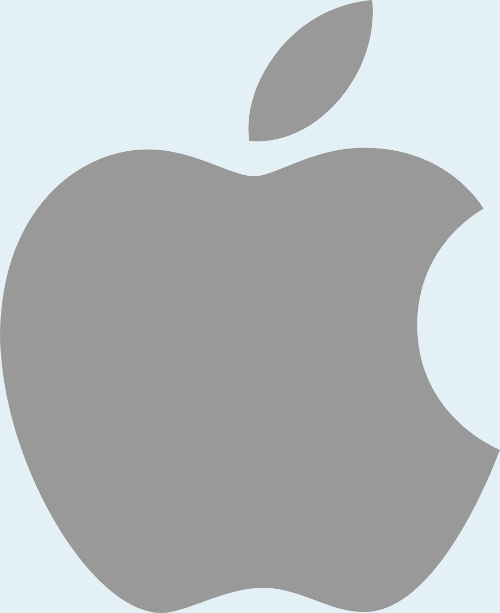 Why detecting iPhones/iPads is tricky
How this extra information can benefit you
How DeviceAtlas solves the knowledge gap
13. Feature phones and KaiOS will enjoy success outside India
A key theme of 2018 was the steep rise in KaiOS devices in India, spurred on by Jio's low-cost Lyf devices and market-smashing data plans.
The Lyf Jio F90M (JioPhone) is now India's most popular device, overtaking the Samsung Galaxy J2 in the early part of 2018. Four of the top ten devices in our study were Lyf/Jio, a massive coup in a country predicted to contain over 813 million mobile phone users.
Feature phone market share remains low outside of India, with a tiny 0.013% of overall US mobile web traffic in Q2. However, given the lack of revolution in the full-smartphone arena (animojis aren't a real development), and talk of "peak smartphone", lower spec' devices may see some success in 2019. Android Go could soak up some of this market, and Google's aqcuisition of KaiOS could kill it completely, but the success of KaiOS in India should prove as a warning to those who feel there's only one direction for mobile technology to take.
For marketers, the lesson here is not to discount potential customers with older or lower-spec devices. Amazon, who have done pretty well for themselves, still offer a bare-bones version of their website for those on such devices, so you should too.
14. Blockchain - not just for crypto
The undisputed King of Marketing Hyperbole, blockchain technology could see some practical uses outside the murky world of cryptocurrencies.
For instance, in legal and financial sectors, blockchain will provide a water-tight method for document signing and verification, as there's often a need for multiple signatures and a clear audit trail.
As blockchain matures and finds a place in the world outside crypto, we can expect it to pop up in unexpected places, quite often without the knowledge of those using it.
15. Privacy Regulation could actually happen
We won't dwell on the privacy nightmare that was 2018. If you've never heard of Cambridge Analytica, you're probably not reading this post.
The difference between 2018 and the previous decade wasn't how much giant tech companies abused our privacy, it was the fact they were outed, publicly, and real, enforceable rules and punishments were created (although yet to be largely enforced).
We predict (and hope) that governments and regulators across the world take on this abuse. Despite official grillings in the US and the EU, Facebook is still leaking like a sieve (quite often as a business decision), Microsoft still can't sort out Windows 10 privacy/telemetry settings, and Google insisted their feature to "turn off your Location History" not turning off your location history was fine and dandy.
So, will 2019 finally be the year when a rampant advertising industry is forced to play nice and stop tracking us everywhere we go? Or at least be honest about it? Whatever does or doesn't happen, we expect to see some changes in how certain aspects of the advertising ecosystem, such as Real Time Bidding, are handled, which could affect marketers, content publishers and advertising agencies alike.
16. Video streaming popularity will drive content production
As we mentioned already, mobile video is where it's at.
In 2019, streaming services will increase in use on mobile devices, thanks in part to improved devices and networks (and possibly 5G), but also because the major content providers - Netflix, Disney, even Youtube - have targeted mobile use as the next big area for growth.
Disney announced Disney+ in November, having decided to end their partnership with Netflix. While this means yet another subscription for users, it could be attractive for fans of the type of content they plan to produce and licence. More details on the Disney+ offerings can be found on Cnet.
Adding more weight to streaming as a key part of media consumption is the growing popularity of video apps like TikTok, and the ever-present Youtube, which accounts for a massive 80% of time spent in the top ten streaming apps in the US, according to AppAnnie.
With such a hold on consumers attention, we'll see many moves between and amongst the major studies, content producers and video apps throughout 2019 and beyond.
17. More apps will begin to us In-App Advertising
There's no such thing as a free lunch, and it's increasingly the case that there's no such thing as a free app, either.
AppAnnie predicted that the number of apps using in-app advertising will increase by 60% in 2019. What this means is more ads within aps, of course, but also the potential of a wider variety and higher quality of apps themselves, as talented producers can fund their next projects, or ideas which may never get off the ground without funding may have a better financial lure for backers.
18. 5G will begin to become a thing
To the uninitiated, 5G represents the next major leap in mobile connectivity, with promised speeds for users approaching 1 Gbit/s and a latency of 1ms. What's not to like?
As with any new technology, there's truth amongst the hype. While smartphone manufacturers and network providers create ads and campaigns around "the next big thing", the biggest wins from 5G will come in industries using massive sensor deployments, such as farming, and those controlling machinery and vehicles at scale. 5G tech could even help self-driving cars get closer to the mainstream.
Sadly, for those excited by the implications for smartphones, 2019 might not hold as much promise. When compared to 4G LTE, the consumer 5G spectrum (dubbed mmWave) runs at a much higher frequency, as well as requiring a lot of hardware and network infrastructure upgrades. This means, once the infrastructure is in place, the signal itself has more trouble finding its way to your phone. So much so, that it's been suggested mmWave signals can be blocked by trees, buildings, your own hand, and can even be absorbed by oxygen, which could prove tricky here on Earth.
(You can read more about the current limitations of consumer 5G for smartphones here).
Despite these hurdles, we expect to see most major smartphone manufacturers attempt to introduce a 5G smartphone in 2019. Already in the pipeline are the Samsung Galaxy S10, Huawei P30 and OnePlus 7. The rumour mill is working overtime, so expect many more announcements in the early months of 2019, possibly the Mobile World Conference in February - which we'll be attending.
19. PWAs will increase in popularity v dedicated apps
PWAs, or Progressive Web Apps, can be tricky to define. While they may look and feel like you've simply added a shortcut to a particular website on your phone's home screen, PWAs offer offline functionality, as well as a significant reduction in load time. Smoother scrolling, full-screen: PWAs perform as well as a dedicated application would.
Should you bother, though? Yes, you should.
As well as the obvious advantages (time, effort, budget) over traditional app development, the rewards can be huge if you do it right. There's also no App Store to try force your way into, so that's one less barrier for your customers.
As Google are keen to remind us, 53% os users will abandon a site if it takes longer than 3 seconds to load. For AliExpress, their PWA drove an 82% increase in iOS conversion rate, 2X pages viewed per session across all browsers and a 74% increase in time spent per session.
To read more about PWAs straight from the horse's mouth, Google's Developer website has everything you could possibly need.
If you're ready to take the plunge, check out the MobiForge minimal PWA checklist.
Download the latest Mobile Report
Bringing you the latest developments on the global device landscape.
iOS v Android market share - Android wins in Sweden
The smartphone upgrade cycle visualized
The most common smartphone CPU/GPU/RAM and screen resolutions across the globe
All statistics represent the share of web traffic in selected countries based on mobile visits tracked by DeviceAtlas.
Get your copy >>