Looking for the latest statistics on mobile device usage? We've just released a new edition of our quarterly Mobile Web Report based on web traffic during Q4 2015. The new issue reveals various trends on the most popular operating systems, device vendors, device models, and much more. The main focus is comparing Android and iOS web traffic throughout the whole of 2015.
Is your country dominated by Android or iOS?
While Android devices generally sell better than iPhones, there are many countries where web traffic generated by iOS devices is significant. The latest DeviceAtlas report helps you understand whether your local market is dominated by iOS or Android. The following chart will allow you to get a taste of what you'll discover in the report.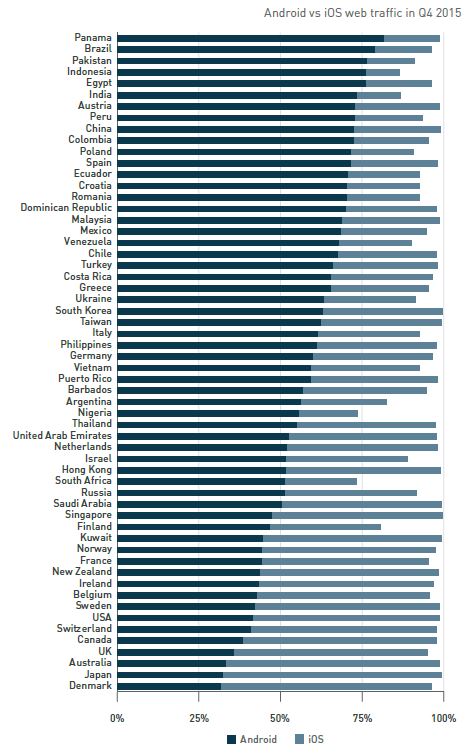 We noticed that during the whole of 2015 Android was the leading mobile OS in most countries, but the amount of web traffic generated by iOS grew faster.
In 2015 four countries switched from Android to iOS and only one country switched from iOS to Android. [tweet this]
iPhone 5/5S is the most used iPhone everywhere
According to the latest rumours, Apple will release a new 4-inch iPhone in March 2015. The new phone will be an upgraded version of the iPhone 5/5S with better hardware and updated software. Macrumors reported that nearly one third of all iPhone users still use a 4-inch iPhone so it's possible that Apple can target these users with a smaller device.
DeviceAtlas statistics also support Apple's decision. iPhone 5/5S is the most popular iPhone model in most countries we analyzed.
Download the report to explore the latest trends in the mobile industry
The latest Mobile Web Report for Q4 2015 also covers the most popular Samsung Galaxy phones, most used mobile browsers, stats on device release years, NFC and LTE capabilities, and more. Just click the button and fill in the form to get your copy of the report.