Device fragmentation can be considered as both an opportunity and a challenge for mobile marketers and developers, given that websites must now be tailored to suit a range of devices varying in screen sizes and capabilities. Are wearable devices about to push the boundaries of the fragmentation further?
The growing adoption of wearables
'Wearables' is a general term used for 'smart' devices designed to be worn rather than carried in a bag or in a pocket. This category includes the likes of smartwatches, smartbands, activity trackers, smartglasses, etc. Most of these gadgets don't work on their own, but require compatible devices to trigger their functions via short-range connectivity.
Are we on the brink of wearables' market boom? Let's look at some notable wearables' statistics.
The wearable technology market was valued $6.3 million in 2010. This figure dropped to $5.1 billion in 2014, but is predicted to hit $12.6 Billion by 2018 (Head Tech).
Wearable device shipment volumes will reach 19 million units by the end of 2014, that figure will grow to 111.9 million by 2018 (IDC research).
61% of all devices in the wearable tech market are activity or fitness trackers (ABI Research).
Wearables with the highest market penetration now are smartbands with 28.2 million units predicted to be shipped during 2015 (Canalys). These devices allow the tracking of users' activities, such as running, walking and sleeping. They only feature some basic notifications such as incoming calls, texts, etc.
The most exciting wearable devices offer more 'smart' capabilities than bands. Both smartwatches and smartglasses feature high quality displays and numerous connectivity options. They're also suitable for developing apps, therefore allowing developers to unlock the real potential in this type of technology.
Smartwatch app ecosystems are now closer to becoming a reality with Google introducing its Android Wear OS and Apple offering the Apple Watch SDK.
Do we need smartwatch content adaptation?
Mass adoption of wearable technology will open up new opportunities for mobile marketers and developers. This includes the likes of text messaging, location specific ads, mobile coupons, notifications, etc. It can also relate to the targeting of websites for wearables, given that some devices will certainly offer web browsing capabilities. Smartwatch-ready content adaptation may soon become a reality.
Google Glass comes equipped with a web browser controlled with voice and head movements. Glass is usually detected as a mobile device, hence m-dot websites are being displayed by its browser. Users can also access websites on their Android Wear-based watches. Below you can see how DeviceAtlas' website looks like on a Moto 360.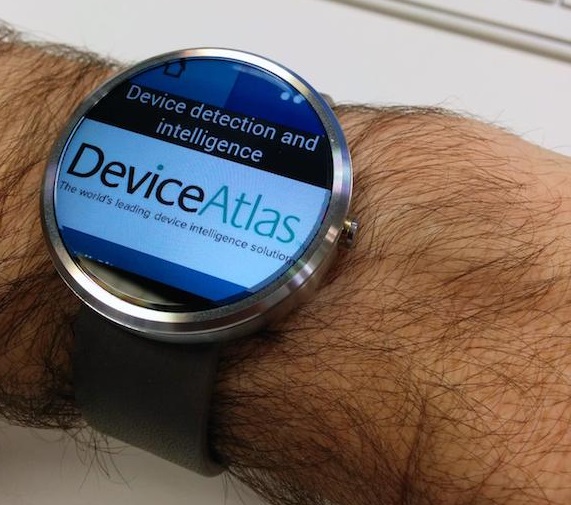 Apple Watch's web browsing capabilities are uncertain at this point. Apple has released WatchKit for developers interested in designing smartwatch-tailored apps. These apps aren't supposed to work on their own, but rather as augmentations of existing apps for iOS. According to Apple's guidelines, "a Watch app complements your iOS app; it does not replace it."
The company would like these apps to be "designed for quick, lightweight interactions," which probably excludes typical forms of web browsing. However, smartwatch-focused notifications from websites may be possible in the future and this leaves the door open for content adaptation.
DeviceAtlas can help you with targeting content for wearable devices, for example with property primaryHardwareType (one of its predefined values is 'Wristwatch'). DeviceAtlas provides you with a list of 160+ device properties to choose from for targeting purposes.
Get started with a local device detection trial
DeviceAtlas is a high-speed device detection solution used by some of the largest companies in the online space to:
Optimize UX and conversion rate on mobile
Boost web performance
Target ads and analyze web traffic
Enable App analytics and advertising insights
Get started with a locally-installed trial to test DeviceAtlas at no cost.