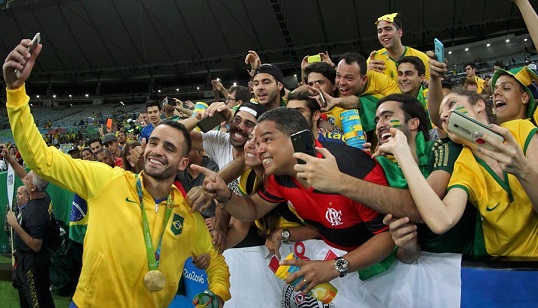 The most used smartphones in Brazil
The iPhone 7 has pushed the 6 down the list in Brazil, while the Samsung Galaxy J5 jumps into second by increasing its 2017 share by 3.2%.
The Motorola Moto G also saw gains. The Samsung Galaxy J7 Prime - 25th on the 2017 list - enters the top ten with 2.61% traffic share in our Q1 data. It was a decent quarter for Android powered devices in Brazil.
| Country | Position | Phone model | Traffic Share |
| --- | --- | --- | --- |
| Brazil | 1 | iPhone 7 | 6.62% |
| Brazil | 2 | Samsung Galaxy J5 | 5.46% |
| Brazil | 3 | iPhone 6S | 4.41% |
| Brazil | 4 | iPhone 6 | 4.29% |
| Brazil | 5 | iPhone 5S | 3.5% |
| Brazil | 6 | iPhone 7 Plus | 3.05% |
| Brazil | 7 | Motorola Moto G | 2.85% |
| Brazil | 8 | Samsung Galaxy J7 Prime | 2.61% |
| Brazil | 9 | iPhone SE | 2.04% |
| Brazil | 10 | Samsung Galaxy J2 Prime TV | 1.87% |
Samsung is the most popular vendor in Brazil
Given the gains we see above, Samsung's increase in usage has helped them claim the prize of Brazil's most popular smartphone vendor in Q1 2018.
Apple are naturally second with 32.7% share, with Motorola (13.6%) and LG (5.7%) well represented.
Making up the rest of the list are Asus, Lenovo, Nokia, Microsoft and Sony.
The most popular mobile operating system in Brazil is Android
Yes - it's Android.
With almost double the share of iOS, Android leads the way with a whopping 64.6%.
Windows deserves some credit for maintaining a 2.2% share, with the rest of our data comprised of RIM, LG and Bada.
Digging into the OS versions in Brazil, we see that Android 6 is still the most popular version in use. With almost a quarter of the overall share, Google's Marshmallow was released in October 2015, highlighting the inconsistency of Android updates.
In contrast, iOS 11.2 has been installed by 22.5% of the devices in our data. If there was an argument to be made for less device diversity, this aspect - ease of updates and security - would surely come into play.
The most common screen resolution is 720x1280
Top of the list with 21% overall traffic share is 720x1280, which includes a wide range of Android devices from manufacturers including Samsung, HTC, Huawei, LG, Oppo, Sony, Xiaomi and ZTE.
In second place is 1080x1920, which is almost exclusively an Android resolution, with the iPhone 6 Plus/6S Plus the only outsider.
Third spot goes to 750x1334, the resolution of the iPhone 6, 7 and 8.
The most popular mobile browser is Chrome
Over half the total web traffic in our Q1 2018 data was driven by Chrome Mobile.
Safari was the next most popular mobile browser with 30.7% share, before a steep drop-off to the next most popular, Samsung Browser with 10.3%.
We see an even steeper drop-off to the rest of the pack, featuring Android Browser, Internet Explorer Mobile, Firefox, UC Browser, Edge and Opera.
Safari 11 is the most common mobile browser in Brazil, with Chrome 63, 64, and 65 not too far behind.
Samsung Browser slots in behind, with versions 6.2 and 6.4 on 4.9% and 4.5% respectively. Android Browser 4 is ninth, with Internet Explorer Mobile 11 in tenth with 1.6% traffic share. You can view the full top 20 browser versions here.
Download the latest Mobile Report
Bringing you the latest developments on the global device landscape.
iOS v Android market share - Android wins in Sweden
The smartphone upgrade cycle visualized
The most common smartphone CPU/GPU/RAM and screen resolutions across the globe
All statistics represent the share of web traffic in selected countries based on mobile visits tracked by DeviceAtlas.
Get your copy >>