Attending industry shows like Mobile World Congress is a great way to follow the latest trends in the mobile technology world. This kind of insight helps us work on the quality of DeviceAtlas device detection and intelligence. Have a look at what we discovered at Mobile World Congress 2015 held last week in Barcelona.
We eagerly anticipated the arrivals of new flagship devices during Mobile World Congress 2015, the Samsung Galaxy S6 and HTC One M9, but of course for the DeviceAtlas team these weren't the only highlights of the event. We also had a closer look at the lesser-known low to mid-range offerings that may shape the mobile market in the future.
Phablets and smartphones for the mass audience getting even more powerful
From a mobile web developer's point of view the biggest MWC releases might not be as important as the low to mid-range smartphones on show. Inexpensive but powerful phablets and smartphones will deepen smartphone penetration globally. This is especially true for the emerging, price-sensitive markets where fixed-line broadband may not be as good as in the developed countries. These users often rely on mobile connectivity for accessing the Internet.
While most Android smartphones at MWC 2015 looked very much alike, a unique design may not be the consumers' primary concern as long as the device offers a quality user experience. And this is true for many low and mid-range devices.
Alcatel Idol 3
At the venerable French brand's stand we spotted the new Alcatel Idol 3 flagship available in 4.7in or 5.5in screen sizes. The smartphone is 'reversible' meaning that you can make phone calls no matter which way up you hold the device.
The better spec'd 5.5in version is powered by an octa-core 64-bit Snapdragon 615 CPU and 2 GB of RAM, while the 4.7in option comes with a quad-core Snapdragon 410 and 1 GB RAM. This is more than enough for typical tasks. Alcatel priced the new Idols at €250 for the 5.5in model, and €200 for the smaller 4.7in option.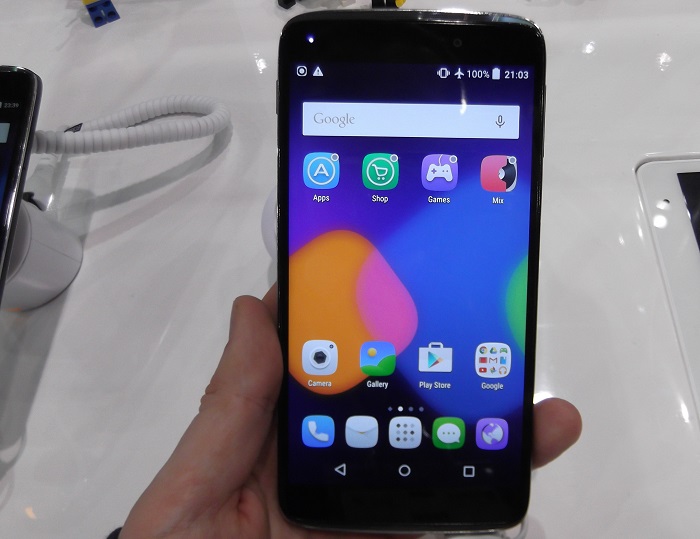 Acer Liquid Jade Z
The newly unveiled 5in Acer Liquid Jade Z also caught our attention with its thin (7.9mm) and lightweight (110g) housing finished with a texture on the back that resists fingerprints and adds grip. The new mid-range Acer powered by a 64-bit Mediatek quad-core CPU clocked at 1.5GHz run pretty smoothly during our brief test at the MWC. There's not much ground-breaking about the Jade Z but it's a decent offering for the RRP of just €199.

Asus Zenfone 2
Hoping to have a closer look at the Intel Atom-powered Zenfone 2, we visited the Asus booth. The Zenfone 2 comes in two screen sizes the 5in and 5.5in, powered by a dual-core (1.8Ghz), or a quad-core (2.3Ghz) Intel CPU. Its brushed metal shell featuring a button at the back (similar to LG smartphones) houses the impressively sharp 1080p screen. Asus Zenfone 2's pricing starts at $200.

Kazam Tornado and Thunder
While the UK-based Kazam founded by former HTC execs is not yet a well-established brand, its smartphones may soon gain some traction. Below you can see the Android-based Kazam Tornado 348 flagship and the Kazam Thunder 450W featuring Windows Phone.

Firefox OS
Looking for the more affordable smartphones on offer, we headed over to the Firefox booth to see the new Firefox OS devices. You might have heard about the $40 entry-level smartphone. The device is clearly cheap, but with its 2-core CPU and up to 500MB data bundle, it might actually convince users to swap their feature phones for smartphones.
The odd transparent housing of the first mid-range Firefox smartphone, the Fx0, also caught our attention. Manufactured by LG and branded by KDDI, the 4.7-inch device is powered by a quad-core 1.2Ghz CPU.

Tizen
We covered the first Tizen-based smartphone Samsung Z1 available in India and Bangladesh a few months back. This device was available at the Tizen booth where we learned that over 200,000 Z1 units have been sold so far.
No breakthrough in the smart watch world
We didn't expect Mobile World Congress 2015 to really push smart watch penetration, given that no wearable innovations were on show in Barcelona. The biggest launches were perhaps the luxury ones including Huawei Watch and LG Watch Urbane.
The Kickstarter-funded Pebble Time Steel was also on show at this year's MWC. Its power-efficient E Ink display is not as crisp as the LCD but it improves the relatively long battery life (up to 7 days).
Of course everyone is paying attention to the new Apple Watch. We are hoping to learn more about this device at today's (9.03) Apple event.

Other interesting picks
Here are a few other interesting picks from Mobile World Congress 2015.
Sailfish OS offers an Android and Windows alternative
The Sailfish-based Jolla Tablet that hit its crowdfunding target last year was on display during Mobile World Congress 2015. And so was the quirky detachable keyboard that works with Jolla smartphones.
We mentioned in our article on Tizen OS that Samsung has embarked on promoting the new OS, Tizen, to help differentiate its offer from other Android device makers. Working on the premise that more companies struggle with making their offer stand out, Jolla will soon start licensing its Sailfish OS to other companies as an alternative to Android and Windows.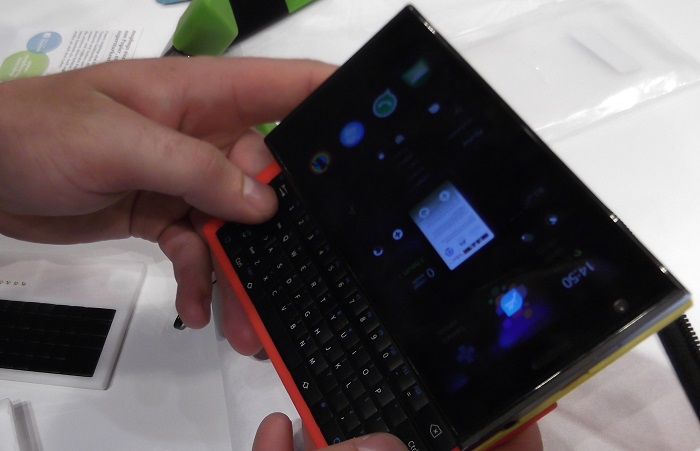 Privacy-focused BlackPhone 2
Developed mainly with privacy in mind, the Swiss-made Blackphone 2 runs PrivatOS which is basically a rebuilt and fortified Android focusing on privacy issues. This includes, for example, securing and encrypting calls, texts and contacts using a bevy of apps. Another privacy feature called Spaces allows you to create separate user profiles. Switching between users is like running completely different phones.
To ensure the highest level of security, the Blackphone maker Silent Circle runs a program in which hackers are paid $128 for each vulnerability found.
Lenovo Vibe Shot
An interesting device we spotted at the Lenovo stand was the Vibe Shot that looks like a point-and-shoot at a first glance but is actually more of a smartphone with its own SIM. It comes with a 16-megapixel camera on the back featuring the likes of optical image stabilization, tricolor flash, and a low-light sensor with back illumination. There's also an 8-megapixel front-facing camera for selfies and video calls.
Lenovo Vibe Shot comes with a physical shutter button, while the volume rocker doubles as a zoom control. Its lightweight aluminium frame houses a quality 5-inch full HD display.

Lenovo Pocket Projector
Lenovo Pocket Projector promises an 110in screen on any wall. The media files can be streamed wirelessly via DLNA and Miracast. Its unique design features a housing that is split in half, with the tilting lens part allowing you to adjust the viewing angle, while the other part provides a solid base for the device. The pricing starts at $199.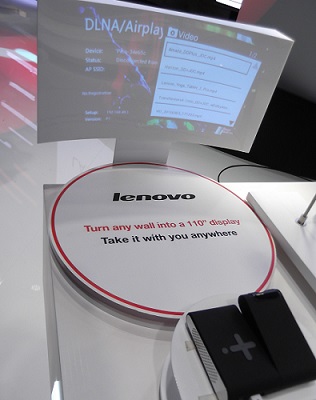 Mobile audiences will continue to grow
Although there were no major device releases that broke the mould at Mobile World Congress 2015, many new smartphones on show confirm our strong belief that mobile web audiences will continue to grow strongly especially in emerging markets. At a relatively accessible price point, a quad-core CPU combined with 1GB or 2GB of RAM and a 4.7-5.5in screen is now available to more users than ever before. For now, specs like these are more than enough for convenient and fast web browsing on the go.