Android Lollipop adoption has been particularly slow over the past nine months. The DeviceAtlas team have dug a little deeper and uncovered some interesting statistics based on traffic to thousands of DeviceAtlas powered websites. If you would like to see the full report, click here.
Android Lollipop is the version of Android spanning versions 5.0 and 5.1. It was officially unveiled on June 25, 2014 during the Google I/O conference.  It was made generally available to carriers and manufacturers on November 3, 2014 which is now about 9 months ago. According to Google, 12.4% of all Android devices worldwide accessing Google Play run Lollipop. KitKat and Jelly Bean far outnumber Lollipop, and with the announcement of Android M, it seems that Lollipop might not be coming to a handset near you, ever.
Contrast this to iOS – a vast majority (over 70%) of users are on iOS 8, the latest version.
Q1 2015 Statistics
The gap between Android and iOS is increasing. Android wins in 56 out of 67 countries DeviceAtlas tracks. Denmark leads on iOS adoption with almost 75% of users with an Apple device. Conversely, Macedonia has the lowest iOS uptake in the world – with less than 5% of devices running that operating system. Interestingly, they also have the largest Android user base per capita. You can see more of these statistics here. The DeviceAtlas statistics are based on website hits generated by devices equipped with different OS's.

Android 4.1 – 4.3 are all contained under the Jelly Bean name so, should really be considered the same OS. The Android 4.4.x series are part of the KitKat family. At the time of publication, according to Google's statistics, KitKat has 39.2% of device share, Jelly Bean has 37.4% and Lollipop has 12.4%.
Germany and India are the fastest adopters of the latest operating system, whereas Japan and Australia have been very slow to catch up. South Korea was quick to roll out new devices with KitKat, but hasn't made the same advances with Lolipop. It will be very interesting to see how this trend develops over the next 12 months and whether or not the release of Android M will make a difference to previous patterns of adoption.
Compare this to iOS penetration: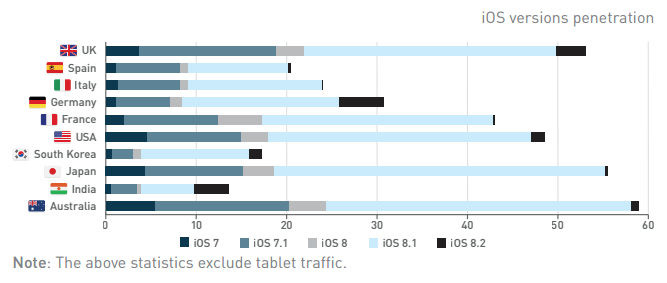 Lollipop Rollout Issues
Therefore, we must ask the question; why has the Lollipop rollout been so slow for Google? Do users not want it? Is it hard to upgrade devices? Is it expensive to implement?
Kitkat reached a 1.1% share within four weeks of its release, but Lollipop achieved less than a tenth of that distribution.
The problem lies with how Google distributes Android to customers.
"Any new version of the OS has to be passed to the manufacturers, who then tailor it to each handset and the individual SKU's of that handset, which are then passed to networks for testing and certification, and then the system to push the over-the-air update to subscribers can begin." Forbes
There are many arguments as to why the device manufacturers have chosen not to roll out including some of the following:
Manufacturers would rather customers buy new handsets, instead of receiving free upgrades
Manufacturers want to retain more control of the operating system, something which Google is cracking down on
Manufacturers may need more time to adapt their apps to match Google's new "Material" design
There have been bugs – and Lollipop hasn't been ready for some carriers
Android M Announcement
Android M was announced at Google IO 2015, but as of yet lacks an official name.  Will it be any good? And more important – will carriers and manufacturers get behind it to push it out to devices that are already in consumer's hands?
Android M focuses on under-the-hood improvements that aim to enhance the user experience by focusing on battery life, and performance. But it seems that there is little information available yet showing that carriers will be incentivised to upgrade their customers. Android M will launch in Q4 2015, so we can look forward to watching user adoption via device detection then.
To learn more about Device Statistics world wide – see our latest report.