Last week, Apple CEO Tim Cook delivered a warning to investors, suggesting it's unlikely they'll hit their sales predictions for Q1 2019, the first time they've cut their revenue outlook in almost two decades.
But what, or who, is to blame?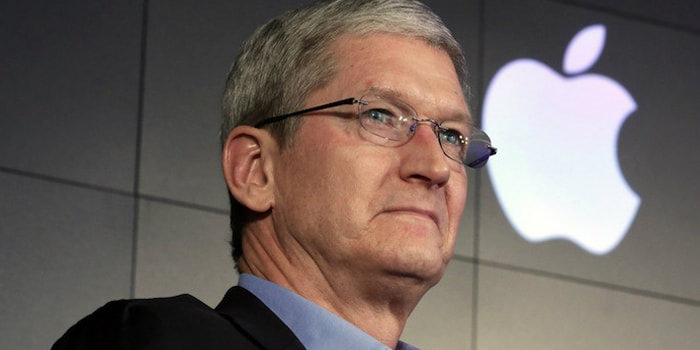 As with all Apple news, there's been much speculation. Have iPhones drifted too far into luxury territory, or is the world economy simply slowing down after a relatively positive decade? Apple themselves have suggested slow sales in China could be the cause, as well as "some customers taking advantage of significantly reduced pricing for iPhone battery replacements" - a rather strange direction to point blame, given the recent legal wranglings around the "right to repair".
Despite the negative outlook, iPhones enjoyed their highest ever number of Christmas Day activations, and still foresee record revenue levels in the US, Canada, Mexico and Western Europe. The elephant in the orchard would appear to be developing nations, where sales of new iPhones have slowed.
While the iPhone 7 still remains popular across the world, newer models, from the 8 to the XR, have hit price points beyond many users' reach. Positioning your product as a luxury, while (commendably) regularly updating software on older versions, means the decision to drop $1000+ on the latest model of what you already have is less likely, especially where disposable income is lower.
This angle was addressed way back in 1995 by Apple's founder Steve Jobs, discussing rational profit and market share versus the thirst for maximizing profits. Those who forget history, etc.
TheRegister suggests China, India, Brazil and Indonesia as examples of countries where iPhones have been priced out of reach. Let's take a look at iPhone presence in the latter three (as our data in China isn't as comprehensive as elsewhere).
iPhones in India
2018 was a great year for KaiOS and Jio in India, which resulted in a decline in iOS usage. Android remained steady, thanks in part to the variety and affordability of handsets.
When we look at January-November 2018 data, we see only 10.34% of mobile web traffic driven by iOS devices. Such a small share still means a huge amount of devices given the population, but with Android enjoying 72.2% share, Apple have some lessons to learn.
Here are the most popular iPhones in India in 2018:
| Country | 2018 Rank | Phone model | Traffic Share |
| --- | --- | --- | --- |
| India | 1 | iPhone 6 | 1.90% |
| India | 2 | iPhone 7 | 1.69% |
| India | 3 | iPhone 6S | 1.47% |
| India | 4 | iPhone 5S | 0.96% |
| India | 5 | iPhone X | 0.89% |
| India | 6 | iPhone 7 Plus | 0.86% |
| India | 7 | iPhone SE | 0.59% |
| India | 8 | iPhone 8 | 0.54% |
| India | 9 | iPhone 6S Plus | 0.45% |
| India | 10 | iPhone 8 Plus | 0.29% |
The fact we see the iPhone 6 leading, with the highest placed "new" iPhone - the X - on a tiny 0.89%, suggests Tim Cook's reasons may be correct, while still omitting some hard truths.
iPhones in Brazil
Brazilian smartphone users prefer Android devices, so it's no surprise to see iOS claiming less than half of Google's share over 2018, 31% v 63.54%.
Still, there are some positives for Apple, with the XS and XS Max showing up in our data, although only accounting for a tiny 0.24% and 0.03% traffic share respectively. Neither model appeared in our Indian dataset for the same period.
| Country | 2018 Rank | Phone model | Traffic Share |
| --- | --- | --- | --- |
| Brazil | 1 | iPhone 7 | 5.86% |
| Brazil | 2 | iPhone 6 | 3.57% |
| Brazil | 3 | iPhone 6S | 3.51% |
| Brazil | 4 | iPhone 7 Plus | 2.70% |
| Brazil | 5 | iPhone 5S | 2.46% |
| Brazil | 6 | iPhone X | 1.90% |
| Brazil | 7 | iPhone 8 Plus | 1.45% |
| Brazil | 8 | iPhone 8 | 1.37% |
| Brazil | 9 | iPhone XS | 0.24% |
| Brazil | 10 | iPhone XS Max | 0.03% |
iPhones in Indonesia
Indonesia is the fourth largest country in the world, with over 269 million inhabitants. That fact alone highlights how Apple's short-term thinking (as per the Jobs video above) could turn out to be a risky strategy.
In the top ten most popular smartphones in Indonesia, only two are Apple devices (the 6 and 7 Plus). The rest of the list contains four Samsung phones, three Xiaomi and the Oppo A37f, all Android devices.
iOS only accounted for 13.75% of mobile web traffic from January to November 2018, with Android on 84.75%. Such a gap is practically impossible to close, so Apple can consider Indonesia - the fourth largest nation on Earth - out of bounds. While Android dominance is undoubtedly helped by the wide range of manufacturers using AOSP as their operating system, Apple's decisions to claim the luxury niche has effectively shut them out of a huge market.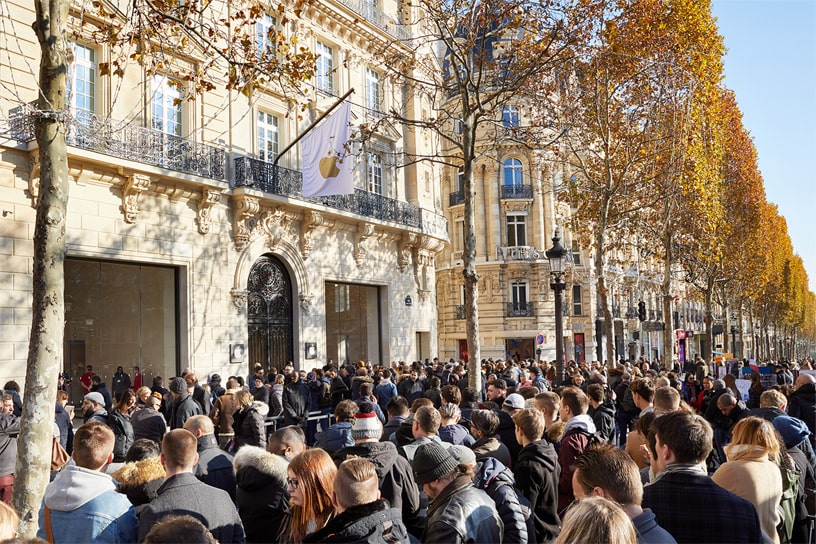 So what does 2019 hold for Apple and shareholders?
While not hitting targets sounds bad, sometimes those targets are a little high, and quite often based on vague predictions and assumptions around consumer behaviour. Peak smartphone is a real thing, and Apple's attempts to sail through as a luxury item while running out of innovation weren't going to last forever.
As the largest company in the world by market value, the alarm bells are still some way off in the distance. People still queue overnight to get their hands on the latest iThing, and recent store openings (pictured above) have attracted crowds of thousands.
They'll be grand.
Download the latest Mobile Report
Bringing you the latest developments on the global device landscape.
iOS v Android market share - Android wins in Sweden
The smartphone upgrade cycle visualized
The most common smartphone CPU/GPU/RAM and screen resolutions across the globe
All statistics represent the share of web traffic in selected countries based on mobile visits tracked by DeviceAtlas.
Get your copy >>