Many companies do not adequately report on mobile devices due to a reliance on unsophisticated device detection methods. These methods typically can't handle incorrect or incomplete HTTP headers presented by the browser or the make/models strings reported by native apps. Maintaining a device database can also be costly, time-consuming and technically challenging. As a result, companies are losing opportunities to get more bang for their buck from visitors and prospects. This is where a device detection capability can add value.
 
From DeviceAtlas to you: your own device database
We come across a lot of companies in the advertising space for example, who use an internal regex solution based on a pattern matching approach on the device user agent (UA) strings. Because this method can be challenging in terms of data maintenance and labor overhead, a more robust device detection solution powered by an up-to-date, accurate device database can make a real difference. 
On the Analytics side, using Google Analytics has almost become the industry norm when it comes to addressing web visitors. That being said, there is the issue of Google's ability to detect device UA strings accurately 100% of the time (see '(not set)' below). While Google Analytics does provide data on what devices are accessing your content, the insights they provide can often be superficial. There is room to go deeper when analyzing your web traffic by using a device database to recognize devices without any doubt. This gives you more data points to consider and instead of optimizing for a particular device type, you can go further and optimize for a device screen size or based on the strength of the connectivity of the device in real time for example. 

DeviceAtlas solves this problem with high performance and high accuracy device detection. DeviceAtlas provides data on all mobile and connected devices including smartphones, tablets, laptops, and wearable devices in real time. The DeviceAtlas API is based on a patented algorithm that quickly and accurately identifies a device visiting a website based on the headers presented by the browser, or an app based on the make/model strings reported in native apps. The API then automatically retrieves the key characteristics of the visiting device from a local device database.
This device database is kept up to date with new devices and data by downloading the latest file from DeviceAtlas, which is updated on a daily basis. The DeviceAtlas API uses a local copy of the database which is stored in a highly compressed JSON file format and is optimized for search and retrieval. This results in a small footprint on the server while delivering lightning fast recognition of visiting devices. Not only that but you have the ability to manage the content of your device database to maximize control over footprint and performance by customizing your
device property set
. The JSON data file can either be downloaded manually or fetched with an automated script, which means minimal ongoing effort is required to manage the deployment.
In a nutshell, the value you get from deploying a device detection solution is the instantaneous mapping of device UA strings to device information in real-time via our API and JSON file, with minimal effort.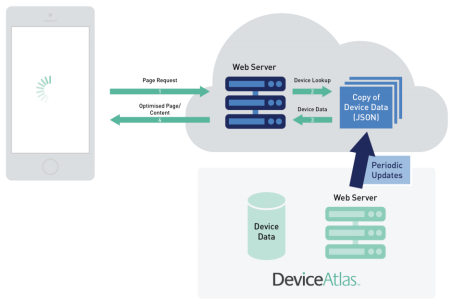 Example use cases of your device database
1. Content Optimization
With your device database that is optimised for search and retrieval, you can use device recognition to identify whether a visit is from a mobile device, desktop browser, crawler, robot or other visitor types, allowing your visitors to be directed to a different website or subdomain based on the device type. For example, you can segment visitors based on their device screen size which can be used for adjusting UX elements, such as form fields, menus, search, and calls-to-action.
You can actually go further than this by utilizing dynamic content adaptation to specific device capabilities which is seen as a stronger way to handle the variety of device traffic. With this approach, content can be modified in real-time to suit the device. For example, device detection can be used to display mobile app download options for different operating systems, such as Android, iOS, etc. Device identification can be utilized to detect the OS in real-time and then only show the specific download option for that OS. The result of these optimization techniques is an improved user experience and maximized conversions. 
2. Targeting, Advertising, Content Delivery
For businesses that deliver third-party content to mobile devices across web and app, such as advertisements, applications, games, for example, it is critical that the format delivered is compatible with the receiving device. For targeting, integrating device permits optimal ad selection and placement, delivering improved click-through rates.
Device information also provides additional targeting criteria for campaign management, as well as supporting the RTB (Real Time Bidding) specification.
3. Analytics
By bringing in an additional layer of detailed and accurate device data such as device browser, OS and screen size to your analytics, you immediately gain insight into which devices your visitors are using when on your site or app. You can scrutinize server logs to build a picture of historical traffic also, so that the overall volumes of mobile devices, their breakdown and frequency, can be established. Based on this, companies can find out what devices lead to conversions, which resolutions they need to cater for most, and optimize their content so it performs on every device.
Today, the average person uses up to 4 different devices, more in some cases. The wider the variety of devices used, the greater the risk is in terms of providing an inadequate user experience which has an impact on your bottom line. This means companies need to be on their A-game when delivering effective ways to handle device fragmentation. By integrating a top class device data source into your technology stack, you can get deep, granular information on what devices are accessing your properties and use this intelligence to support content adaptation decisions in real-time.
Get started with a local device detection trial
DeviceAtlas is a high-speed device detection solution used by some of the largest companies in the online space to:
Optimize UX and conversion rate on mobile
Boost web performance
Target ads and analyze web traffic
Enable App analytics and advertising insights
Get started with a locally-installed trial to test DeviceAtlas at no cost.