As the world's most authoritative source of device intelligence, we continuously strive to ensure we deliver the most advanced solution on the market. In this regard we endeavour to meet developing customer needs, pre-empt customer opportunities from market trends and contribute to global technical standards.
Recent additions to our DeviceAtlas properties include 5G, eSIM Count and various properties to classify IoT devices (e.g. IoT Endpoint, IoT Enabler and IoT Controller). Today we are happy to announce the introduction of 2 new properties: "32 Bit Architecture" and "64 Bit Architecture".
What Are The "32 Bit Architecture" And "64 Bit Architecture" Properties?
These properties can be used to identify if a device supports a 32 bit architecture or a 64 bit architecture. Specifically, a Boolean value is returned if both the hardware and operating system of a device supports a 32 / 64 bit architecture. DeviceAtlas customers can leverage this insight in many ways (1 key example is detailed below) to enhance value to their business, customers and end users.
How Can These Properties Be Leveraged – 1 Key Use Case
While there are many use cases for these properties, we have highlighted one key use case below.
- Assess The Impact Of Phasing Out Support For 32 Bit Versions Of Apps
A leading mobile technology company and DeviceAtlas customer, highlighted a need for app developers to be able to understand a device's architecture due to a Google Play restriction, which will become increasingly important in 2021.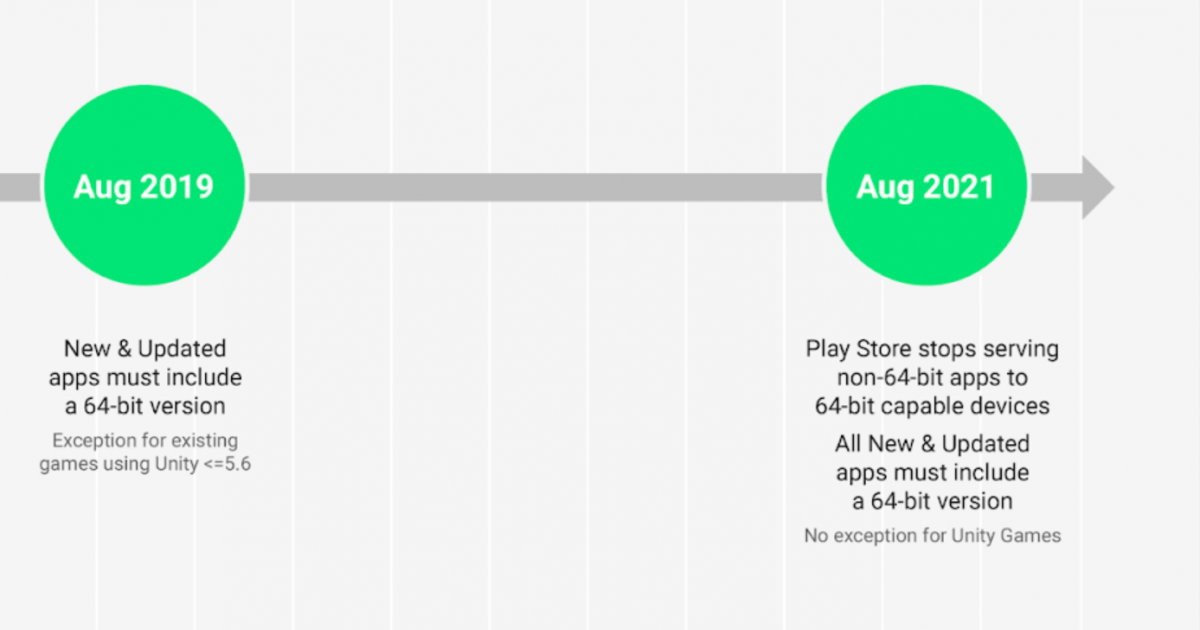 Source: android-developers.googleblog.com
Recently, August 2019 as per the image above, Google implemented their 64 bit requirement. This means that all app updates and new apps, that include native code, must provide 64 bit versions in addition to 32 bit versions. Furthermore, Google Play will stop serving 32 bit versions of applications on 64 bit capable devices from August 1st, 2021.
This obviously calls into question the requirement for maintaining support for 32 bit versions of applications. Identifying and leveraging an opportunity to phase out support early can result in significant cost savings for businesses.
An effective way to assess the impact of phasing out 32 bit versions of applications is to identify if your current users have devices that support a 64 bit architecture – DeviceAtlas' new "64 Bit Architecture" property provides this solution. Once implemented in an application (or even on a website), your user's device capabilities can be assessed, and insights gained into the impact or level of opportunity for phasing out 32 bit application support. If enough of your users have devices that support a 64 bit architecture, efforts can then be made to transition those users to a 64 bit version of your application in a more conscientious and methodical manner. 32 bit versions of applications can then be phased out completely resulting in cost savings for businesses.
See the complete range of DeviceAtlas properties, here.
Try DeviceAtlas for the Native Apps environment
DeviceAtlas provides the same deep intelligence in the native apps environment as it provides in the web environment, giving you a consistent view of devices across all channels. Get a free trial of DeviceAtlas for Apps today.