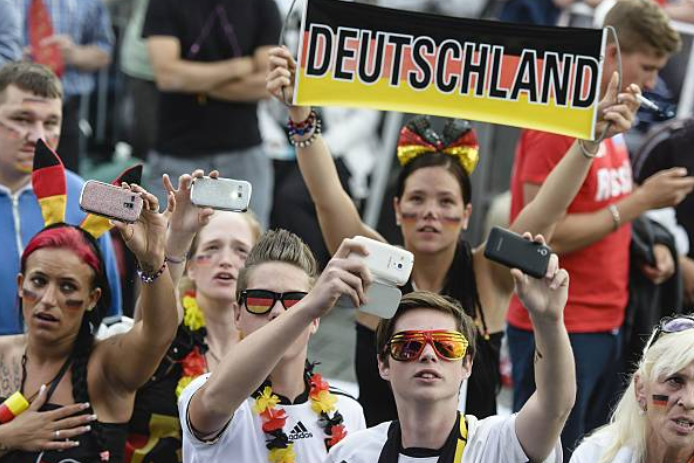 With around 60 million smartphone users, Germany is a big player in Europe's tech scene. We've compiled some statistics on the mobile landscape, including the most used smartphones, OS versions, screen sizes, and mobile browser usage throughout Q1 2018.
The most used smartphones in Germany
2017's most popular smartphone in Germany, the iPhone 6, has fallen down the list, from 9% share of traffic to under 5% in Q1 2018. Samsung is the winner this time around, as the Galaxy S7 moves into top spot.
| Country | Position | Phone model | Traffic Share |
| --- | --- | --- | --- |
| Germany | 1 | Samsung Galaxy S7 | 6.74% |
| Germany | 2 | iPhone 7 | 6.02% |
| Germany | 3 | iPhone 6S | 5.18% |
| Germany | 4 | iPhone 6 | 4.95% |
| Germany | 5 | Samsung Galaxy A5 | 4.77% |
| Germany | 6 | Samsung Galaxy S8 | 4.04% |
| Germany | 7 | Samsung Galaxy A3 | 3.79% |
| Germany | 8 | Generic Android Mobile | 3.76% |
| Germany | 9 | iPhone SE | 3.71% |
| Germany | 10 | Samsung Galaxy S6 | 3.17% |
Samsung is the most popular vendor in Germany
The most popular mobile operating system in Germany is Android
With Samsung leading the vendors, Android is the most popular mobile Operating System in Germany, with over 2/3 of the total market. iOS sits second with 31%, less than half that of its rival OS.
Windows still has a presence, albeit below 1% - and most likely set to disappear as the OS dies out. The rest of the data is made up by RIM and Symbian devices.
Looking at OS versions specifically (via our Data Explorer) tells us that Android 7 is the most common OS versions in use, with iOS 11.2 second. iOS 10.3 and 11.1 appear in the top ten, with various Android versions ranging from 4.4 to 8 accounting for the bulk of web traffic in our data.
The most common screen size is 1080x1920
With one quarter of the traffic share in our Q1 2018 data, the most common screen resolution in Germany is 1080x1920, which includes numerous Samsung Galaxy handsets, as well as the iPhone 6 Plus, Xiaomi's Redmi Note 2 & 3, Sony Xperias and the Huawei P8.
Second on this list is 750x1334, the resolution of the iPhone 6, 6S and 7. Just behind, with 18.2% is 720x1280, a resolution seen in HTC's Desire handsets, as well as the Huawei P8 Lite, Samsung's Galaxy A5 and the Motorola Moto G.
The most popular mobile browser is Chrome
Chrome is the most used mobile browser in Germany with 35.8% of web traffic share in our data, with Safari close behind with 30.1%.
Samsung's Browser takes a considerable chunk too, with the rest of the numbers being made up by Firefox, Android browser, IE Mobile, Edge, Opera and BlackBerry browser.
Looking at mobile browser versions tells a different story, as Safari 11 takes over 20% of the traffic share, Chrome 63 in second with 16.24%.
Download the latest Mobile Report
Bringing you the latest developments on the global device landscape.
iOS v Android market share - Android wins in Sweden
The smartphone upgrade cycle visualized
The most common smartphone CPU/GPU/RAM and screen resolutions across the globe
All statistics represent the share of web traffic in selected countries based on mobile visits tracked by DeviceAtlas.
Get your copy >>