While there are only several smartphone makers recognized globally, the overall number of unique phone brands actively used is massive. Just to give you an idea, in Q3 2016 in the USA alone, there were 281 unique mobile device manufacturers whose devices were used for web browsing in that period! In this post, we take a closer look at the most used smartphone makers in 2016 based on website visits.
Samsung, Apple, and Huawei dominate in terms of sales in Q3 2016
According to the latest shipment statistics from IDC, Samsung, Apple, Huawei, Oppo and Vivo were the top 5 phone makers in Q3 2016. The most used phone manufacturers cover 54.6% of the market, leaving as much as 45.4% for other manufacturers, such as LG, Sony, HTC, Xiaomi and hundreds (if not thousands) of other brands.
Today the world of phone makers is really fragmented. The fact that any company can now design, manufacture and sell a unique smartphone, means that it's becoming increasingly difficult for companies to get a good understanding of what devices their particular audience is using. Intelligence on all characteristics of visiting devices (including make and model) is typically used for advertising, web analytics and web optimization purposes.
Most used smartphone makers in Q3 2016
The fact that Samsung and Apple dominate is much more apparent if you look at the web browsing statistics tracked by the DeviceAtlas device detection solution. It's probably due to the fact that both Samsung and Apple offer many high-end smartphones which are used in urbanized areas with good connectivity and generous data plans. This is not always the case, for example, Vivo which is mainly popular in emerging markets. It means that while Vivo sells a lot of smartphones today, they may not be used for web browsing as much as devices made by Samsung or Apple.
The following charts show the share of the most popular phone makers in 2016 across 10 selected local markets.
Apple's share of web traffic Q1-Q3 2016
Apple's share remained stable, reaching over 50% in Australia, USA, France and the UK. In 2016 we noticed a slight drop (2-4%) in Apple's share in these countries.
Samsung's share of web traffic Q1-Q3 2016
Samsung's share grew noticeably between Q1 and Q3 2016. It was particularly visible in Australia (+4%), Nigeria (+5%), USA (+3%), UK (+5%), and France (+5%). Of course, these numbers do not reflect Samsung's issues with the Galaxy Note 7 which may be visible in the upcoming report for Q4 2016.
Other phone makers' web traffic share in Q3 2016
QMobile, Micromax, bq, and other locally popular brands
Most users recognize phone brands such as Samsung, Apple, LG, Sony or HTC but there are many phone makers known to a relatively limited audience. A good example is QMobile which is the second most popular phone maker in Pakistan, after Samsung and ahead of Apple. Bq is highly popular in Spain and Portugal, while Micromax has its audience primarily in Nigeria. The following map shows selected countries where local phone makers are exceptionally popular based on web traffic statistics in Q3 2016.
Here's a map showing where these local brands are the most popular.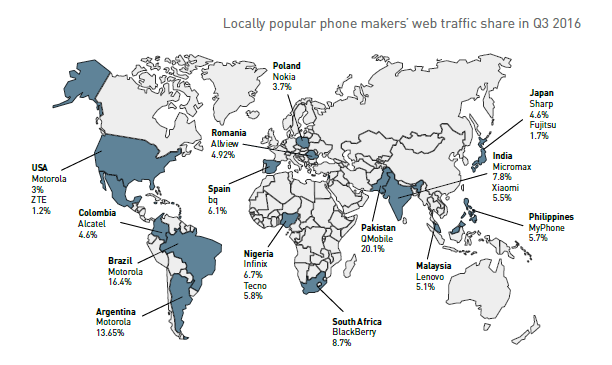 Download the latest Mobile Report
Bringing you the latest developments on the global device landscape.
iOS v Android market share - Android wins in Sweden
The smartphone upgrade cycle visualized
The most common smartphone CPU/GPU/RAM and screen resolutions across the globe
All statistics represent the share of web traffic in selected countries based on mobile visits tracked by DeviceAtlas.
Get your copy >>