Recently we looked into the popularity of mobile operating systems in Q1 2016. While iOS grew faster than Android in most countries over 2015, this trend reversed in Q1 2016 with Android gaining much more than iOS. Check out the latest statistics on the most popular mobile operating systems.
iOS losing web traffic share
Kantar Worldpanel reported recently that Android sales were on an upward trend in Q1 2016. Google's OS posted solid gains in the EU5, up 7.1% points to 75.6%. It also grew in the USA and urban China.
At the same time, Apple announced its first quarterly revenue decline since 2003 which was caused mainly by shrinking iPhone sales. The company sold roughly 10 million fewer devices than in a corresponding quarter last year. While the incredible growth streak had to come to an end sooner or later, we noticed that web traffic trends also prove iOS growth is slowing. At the same time Android grew its web traffic share at the expense of iOS.
This is clearly the result of more people owning inexpensive Android phones which are now capable of comfortably browsing websites on-the-go which is one of the trends driving the mobile world today.
The following charts show the breakdown of Android and iOS web traffic share in Q1 2016 in selected local markets. Interestingly, Android is the worldwide leader in terms of sales but in terms of web traffic iOS is more popular than Android in some countries, such as Australia, Japan, USA and UK.


In the following tables we present the changes in Android and iOS web traffic share in Q1 2016 and several preceding quarters. The figures clearly show that Q1 2016 was much better for Android while 2015 was generally better for iOS. During the last quarter Android's growth oscillated between 0.5% and 6.5% depending on the country. In the same period, iOS lost between -4.3% and -0.2% web traffic share. In Q1 2016 iOS grew its traffic share in Nigeria (+1.63%), Spain (+0.76%), and India (+0.39%).


Blackberry and Windows Phone web traffic share
Are there any other mobile operating systems that are widely used? According to IDC, sales of phones using other mobile operating systems represented only 3% of the total for the whole of 2015. This figure includes 2.2% for Windows Phone share and just 0.8% for all other mobile OSes, such as Blackberry OS, Firefox OS, etc.).
While the sales are very low, a lot of these phones are still used in some countries especially Windows Phone and Blackberry OS, although these aren't the largest markets. The following map shows 10 countries where either Windows Phone or Blackberry OS are the most popular according to DeviceAtlas web browsing statistics.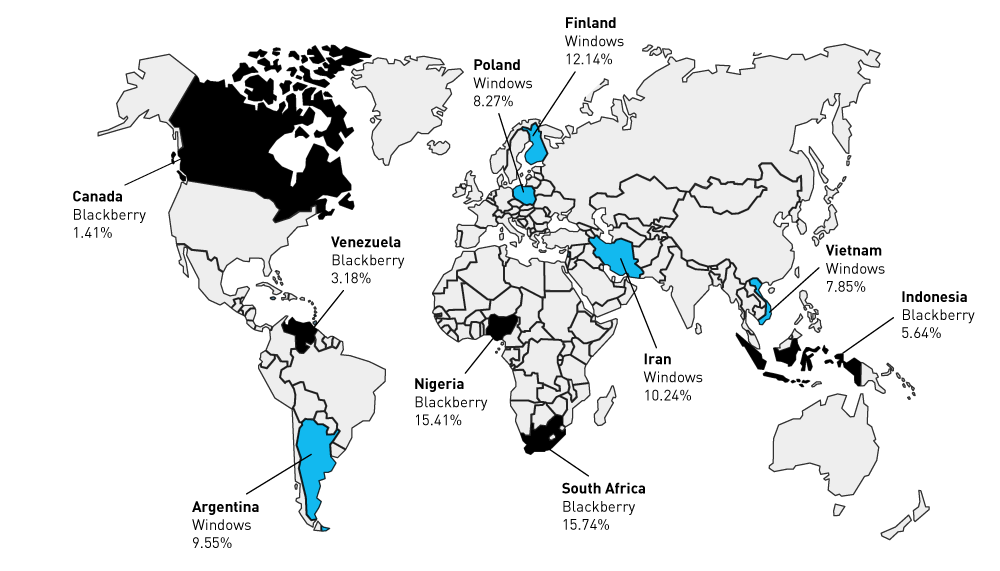 Download the latest Mobile Report
Bringing you the latest developments on the global device landscape.
iOS v Android market share - Android wins in Sweden
The smartphone upgrade cycle visualized
The most common smartphone CPU/GPU/RAM and screen resolutions across the globe
All statistics represent the share of web traffic in selected countries based on mobile visits tracked by DeviceAtlas.
Get your copy >>