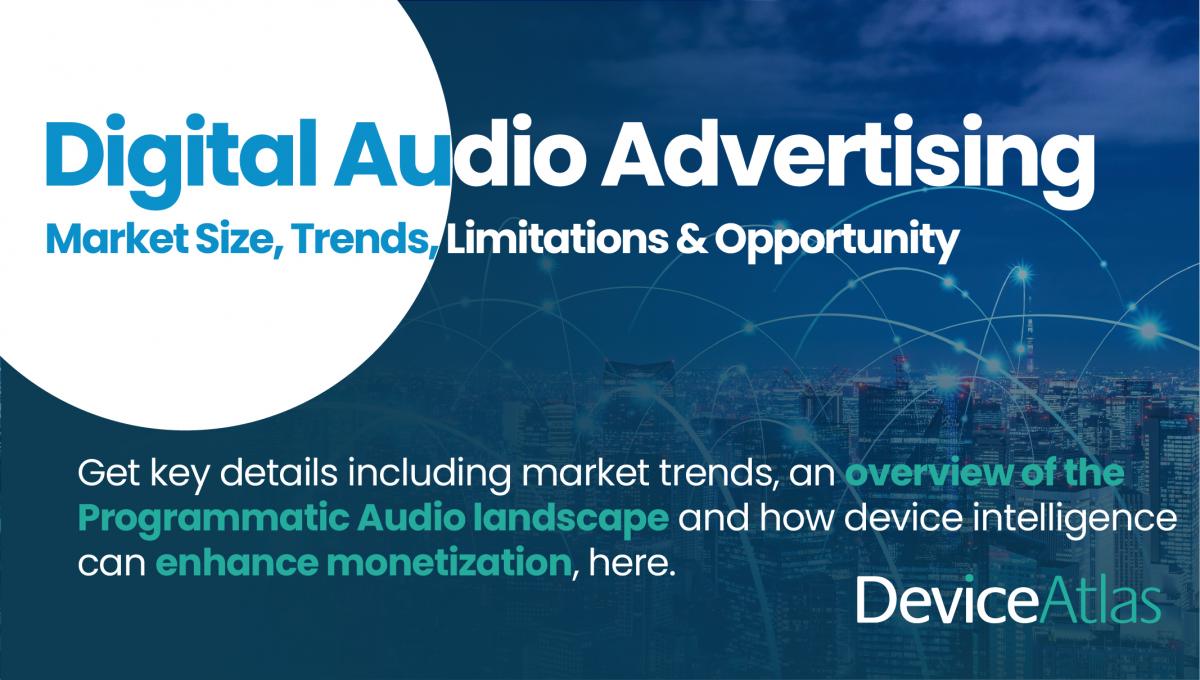 The abundance of mobile devices, combined with the rise of new connected devices, has resulted in significant growth in digital audio consumption.
Smartphones, smart speakers and connected cars are being used more than ever to consume digital audio. This is leading to a rise in advertising opportunities.
Below, we take a look at the digital audio advertising market size, key trends, and reasons why advertisers are investing. Additionally, we look at the programmatic audio landscape, its limitations and highlight an opportunity to enhance the monetization of programmatic audio.
Digital Audio Advertising Market and Key Trends
Audio advertising, one of the oldest forms of mass media advertising, is experiencing a resurgence. This is due to the growth in digital audio consumption, which is driven largely by music streaming services, podcasts and digital radio. This growth is enabled by the developments in, and adoption of, technology, including mobile network enhancements, smartphone penetration, and growth in smart / connected devices.
eMarketer predicts (before COVID-19) that 2020 will be the first year that the average US adult will spend more time consuming digital audio than traditional radio.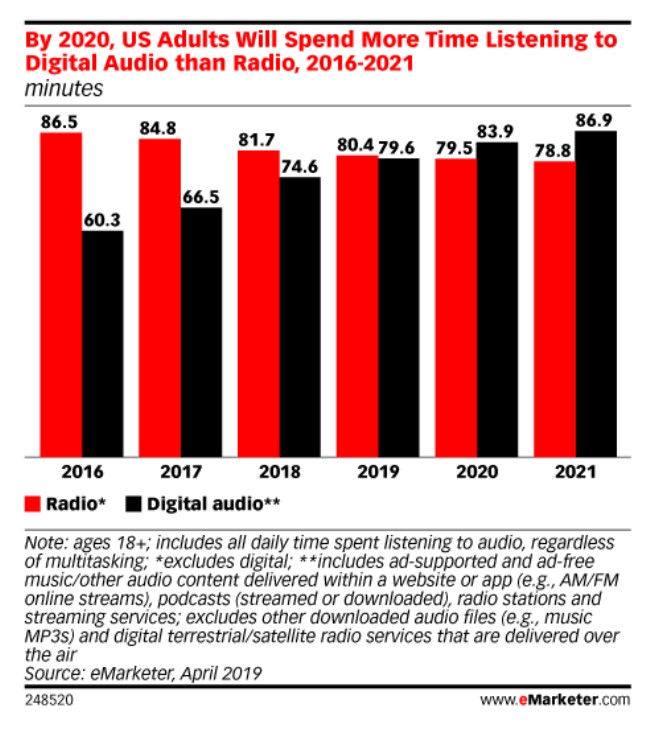 Source: eMarketer
Furthermore, as can be seen above, the gap between digital audio and radio consumption is expected to increase even more in 2021.
As digital audio consumption grows, so does advertising spend. IAB Europe, expects the European digital audio advertising market to reach close to €1.5 billion in 2023.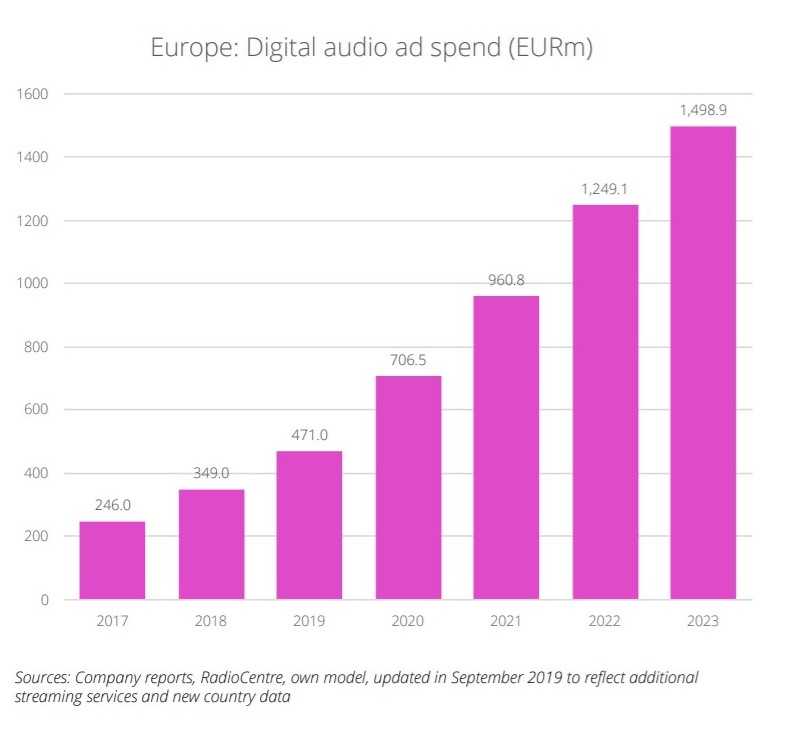 Source: IAB Europe
These predictions were made before COVID-19, however, they still provide useful insights into the overall upward trend in digital audio ad spend.
IAB Europe also notes that, while the digital audio market is growing fast, it is still small. It's equivalent to approximately 3% of the display market when social is excluded.
Traditional Radio-Advertising vs Digital Audio Advertising Spend
As can be seen in the graph below, Statista predicts continued growth in digital audio ad spend despite COVID-19. This is in contrast to traditional radio-advertising, where a drop in ad spend is expected in 2020. And overall audio advertising spend recovery is expected in 2022.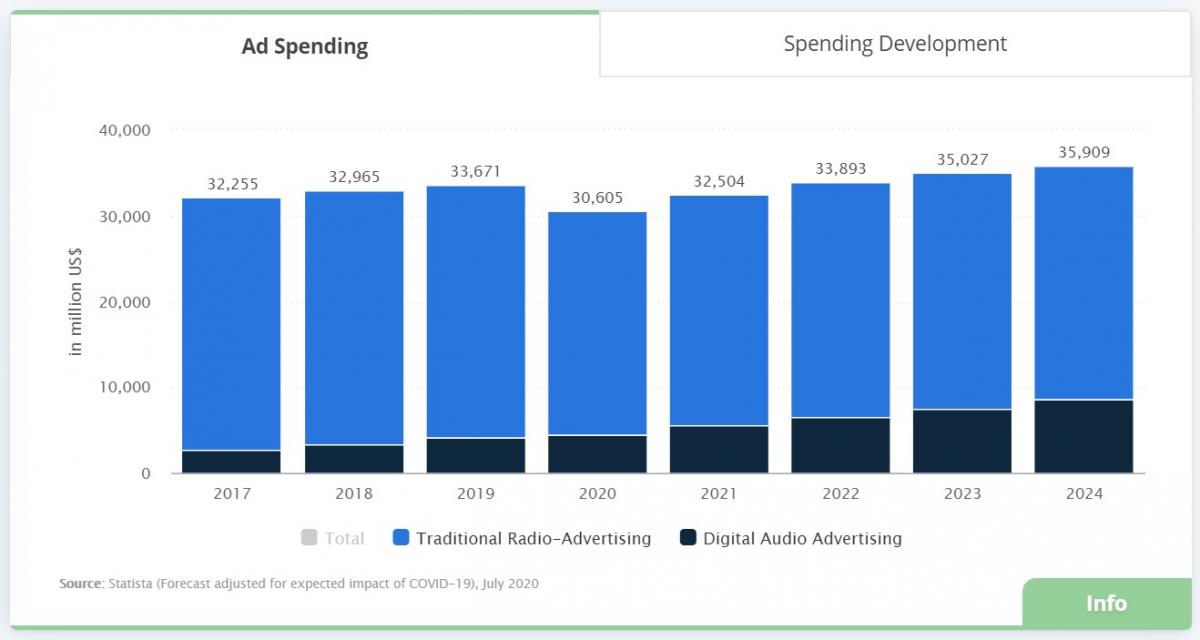 Source: Statista.com (Ad Spending Chart)
Statista also predicts 3 years of reduced ad spend in traditional radio-advertising: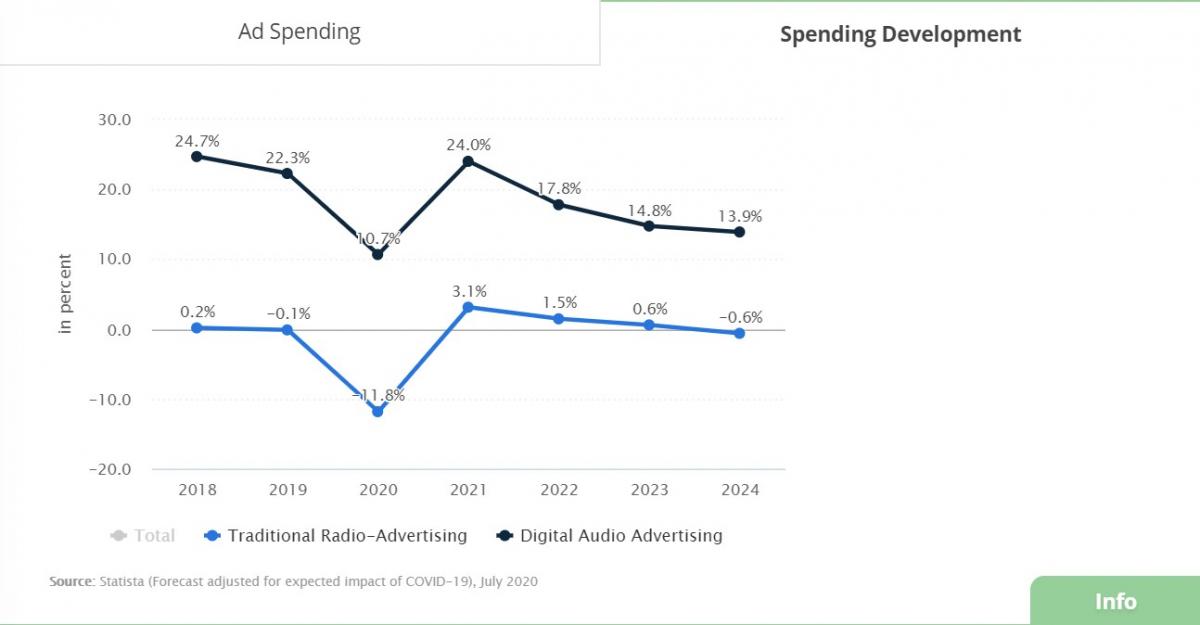 Source: Statista.com (Spending Development Chart)
This indicates a somewhat static (excl. 2020) traditional radio-advertising market, with overall audio advertising market growth being driven by digital audio.
Why Are Advertisers Investing In Digital Audio Advertising?
Advertisers are investing in digital audio advertising for many reasons. One key reason is that audio advertisements can be on when screens are not. Digital audio ads can reach potential customers where visual ads cannot. Whether training for track and field events or driving cross country, digital audio ads can engage potential customers in contexts and environments that are less suited to digital display ads. This opens many opportunities for creative and integrated advertising campaigns.
In their 2019 Digital Audio Buyer's Guide – 2.0, the IAB highlights other key reasons for investing in digital audio advertising. These reasons include growing audiences, favourable demographics, reach with mobile users, their responsiveness to ads, the message environments themselves and the fact that impressions are measurable.
Additionally, there are also many types of digital audio ad units that are available, such as recorded spots, voice activated ads, branded podcasts and playlists.
For these reasons, and more, we're seeing increased investment in digital audio from advertisers. And we're also seeing increased investment and movement in the digital audio ecosystem to meet this growing demand from advertisers.
Programmatic Audio Advertising
The programmatic audio landscape is rapidly developing. In their September 2019 Economic Trends Forum, "Listen Up! The Rise of Digital Audio Advertising", IAB Europe provided the below snapshot of the programmatic audio landscape. While not intended to be exhaustive, this snapshot highlights the burgeoning activity (incl. acquisitions and partnerships), emergence of key players, development and complexity in the programmatic audio landscape.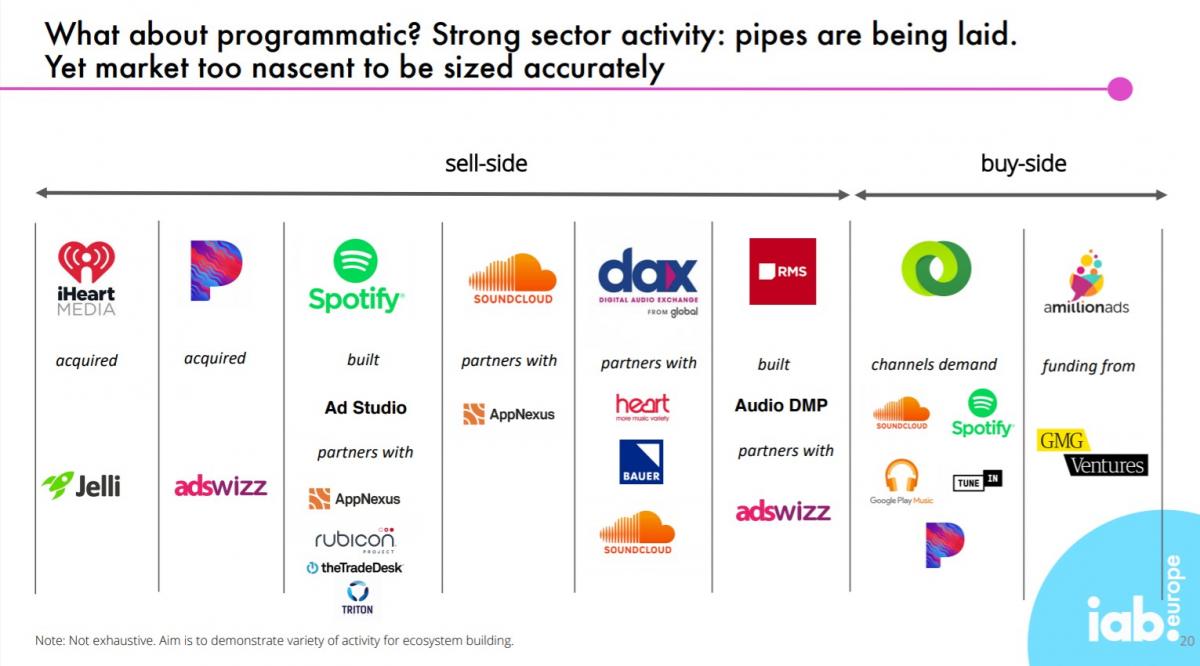 Source: IAB Europe
This early stage in programmatic audio results in many opportunities but also limitations.
Programmatic Audio Limitations
In the same Economic Trends Forum, IAB Europe highlighted key limitations that need to be tackled in order to unlock programmatic audio.
To briefly summarize, these include the following:
limited audio ad-fund model development that is not in line with consumption
programmatic infrastructure that was built for visual advertising, not audio
less data available in audio (e.g. no visibility on impressions from downloaded podcasts)
lack of scaling could limit campaign fulfilment
native ads in podcasts require new programmatic models
inventory is fragmented throughout the ecosystem
integration with other (e.g. display, video) programmatic channels is limited and complex
industry needs to be educated on audio metrics such as listen-through-rate.
Watch IAB Europe's September 2019 Economic Trends Forum, "Listen Up! The Rise of Digital Audio Advertising", to learn more about these limitations.
Device Intelligence To Enhance Monetization Of Programmatic Audio
DeviceAtlas is the device intelligence solution of choice for market leaders in the Real-Time Bidding space, including SpotX, The Trade Desk, and Xandr/AppNexus.
Our unrivalled high-speed APIs & accuracy help our partners to:
Improve conversions & reduce discrepancies through granular device targeting of advertising campaigns
Enhance inventory value, analytics & reporting with rich device insights
Enhance programmatic targeting & optimization for digital audio devices, including Digital Home Assistants (i.e. Smart Speakers) and Vehicle Multimedia Systems and
Stay on top of the increasingly fragmented device landscape more efficiently.
Learn more, get a free trial here.