When reviewing our Mobile OS data for 2018, a few trends stood out.
Australia saw some huge shifts, as iOS lost 4% market share and Android gained 4.3%. It was Sweden, however, which showed the starkest change in OS popularity, as Android overtook iOS as the most popular operating system in 2018.
It's always been a tight affair between the two mobile giants, but the gains for Android led us to investigate any shifts in device usage, and what could drive them. What we saw was an increase in use of Huawei devices, just enough to tip the balance in favour of Android.
We recently investigated the smartphone upgrade cycle, charting the changes in use of iPhone (6, 7, 8, X) and Samsung Galaxy (S6, S7, S8, S9) across select countries.
It showed steady gains for the iPhone 8 and X, and even the iPhone 7 increased in usage. The iPhone 6 started its decline. This was what we expected to see.
In Sweden, however, we saw something slightly different in the Samsung data:
While the Galaxy S9 gained a small share, the other model we'd expect to be heading in the same direction - the S8 - only increased its share by 0.03% across the whole year. This pointed to another Android manufacturer affecting the overall landscape.
Brand Ambassadors
In January 2018, Huawei announced Gal Gadot as worldwide brand ambassador. The star of Wonder Woman heavily promoted the Mate 10 Pro, and it did have a positive impact (although still a small percentage of the overall market):
The campaign had a little blip in April, with Gadot (or her PR team) Tweeting a promotional message from an iPhone. It doesn't seem to have had any major impact on Huawei's overall brand strength, though.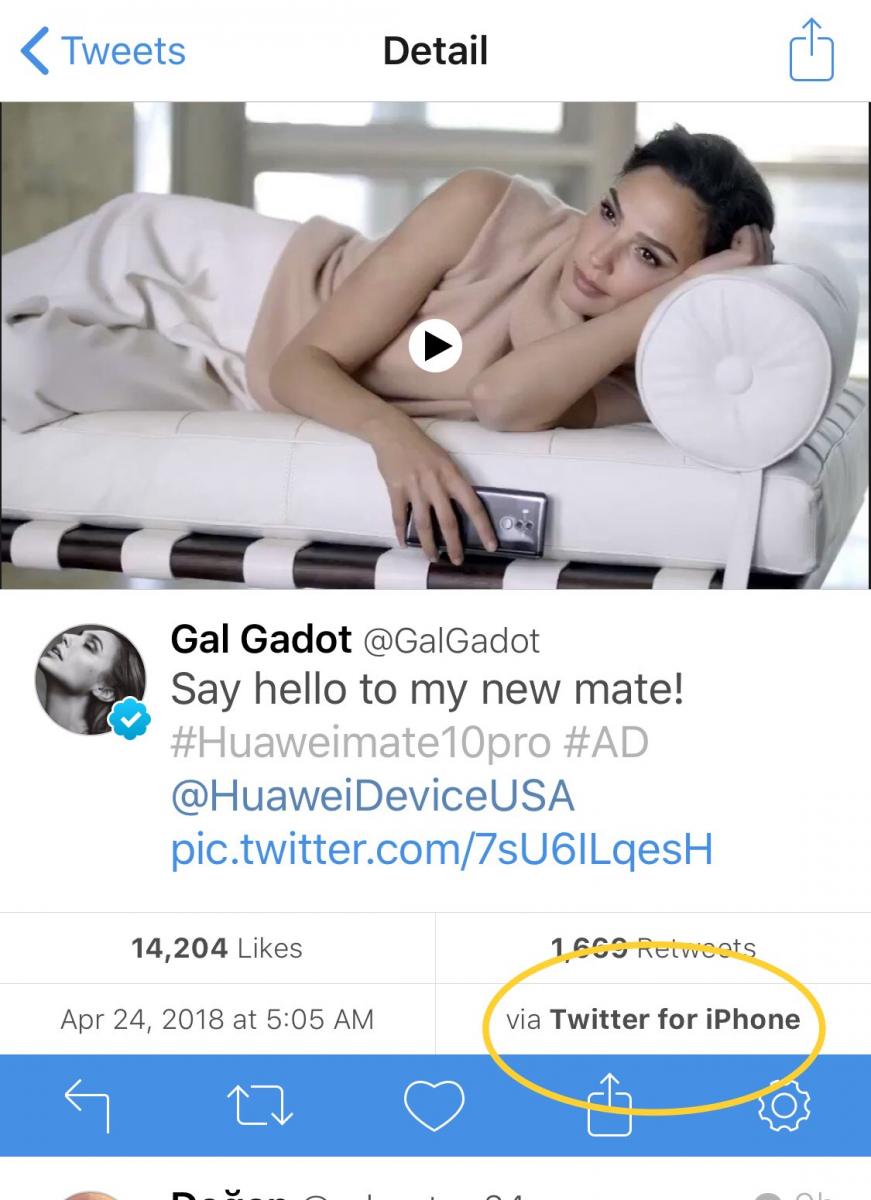 Huawei also enlisted the help of Danish supermodel turned-photographer Helena Christensen to promote the P20 Pro.
The improved camera was a feature Huawei were keen to push, and their Consumer Business Group CEO Richard Yu commented:
It combines the very latest in smartphone technology with Leica Camera's legendary expertise, to deliver an incredible master photography experience driven by A.I., giving users the tools to achieve professional-standard results with every shot.
The partnership appears to have done the job too, with growth in usage of the P20, P20 Lite and P20 Pro steadily improving over the year in Sweden.
Considering the criticisms and theories levelled at Huawei, 2018 was a decent year for the Chinese manufacturer.
Apple won't be overly concerned with losing 4% of the overall share, as their sales in other countries - the US, UK, Canada and others - still remain strong.
What Sweden's shift tells us, however, is that Android manufacturers have more to gain by increasing market share and brand awareness. It's unlikely any smartphone buyer, anywhere, is unaware of what the latest iPhone will offer, but to elbow into the market, Android OEMs can combine slick marketing with clear device improvements to shake up the landscape even further.
It also highlights how external forces can affect the landscape. In many countries, there's been a shift towards a "cashless society", where all banking and payment activity exists digitally. In Sweden, the BankID system now boasts over 6.5 million users, and it's common to see shops with "we don't accept cash" signs hanging outside. When smartphones become a vital part of modern life and commerce, Android is more likely to win the battle.
For more statistics and analysis of the mobile OS scene across 36 countries, visit our Android v iOS Market Share page.
Download the latest Mobile Report
Bringing you the latest developments on the global device landscape.
iOS v Android market share - Android wins in Sweden
The smartphone upgrade cycle visualized
The most common smartphone CPU/GPU/RAM and screen resolutions across the globe
All statistics represent the share of web traffic in selected countries based on mobile visits tracked by DeviceAtlas.
Get your copy >>