NGINX
How the DeviceAtlas module for NGINX brings device awareness to the web server

300

M+

Websites powered by NGINX
Headquartes:
San Francisco, California, USA
Industry:
Information Technology and Services
Specialties:
Web Server, load balancer, web acceleration
Executive Summary
The DeviceAtlas module for NGINX® brings the full device intelligence of DeviceAtlas to servers running NGINX. It allows the task of real-time device detection to shift from the application level to web server level, reducing configuration complexity and optimizing the load on applications. As a result all applications higher up in the technology stack benefit from world class device intelligence in real time at a much lower infrastructure cost.
Challenge
With an increasingly fragmented mobile device landscape, being aware of what devices are accessing your sites is a very important step in implementing your mobile and online strategy. Instantly knowing the capabilities of the device your customer is using enables the proactive application of corresponding content generation and delivery mechanisms to ensure best quality of experience to the customer. In turn, accumulated knowledge about the devices accessing your web site and how customers are using them provides an immensely useful foundation for future strategic decisions. Combine this with a large scale heavy load web site, and the task of on-the-fly device detection becomes an additional challenge.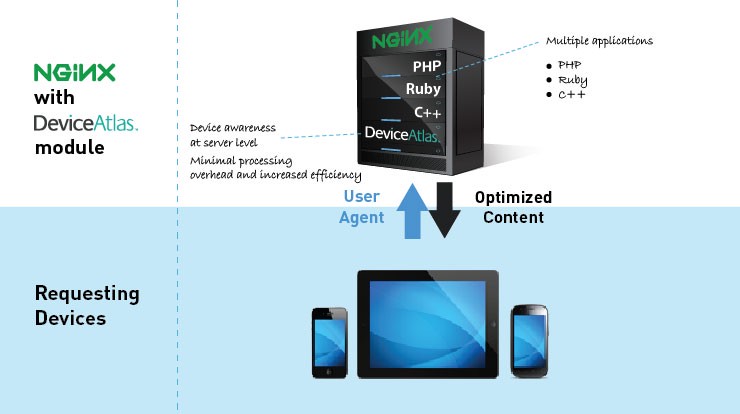 Real World Implementation: TransferMarkt
Transfermarkt.de is Germany's leading online football community with country portals in Austria and Switzerland, and a women's football portal soccerdonna.de. It is one of the largest sport pages on the German-language Internet. Transfermarkt.de also operates a video service, further country portals in England, Italy, Poland, Spain and Turkey, which are localized into the target country language. Currently TransferMarkt see monthly visits of 36 million on their transfermarkt.de site.
NGINX is deployed as a web front-end for application servers. Having the DeviceAtlas module for NGINX gives TransferMarkt the device awareness they need at web front-end level to handle their mobile traffic by quickly adapting according to the requesting devices properties. This is significantly more efficient than integrating a device detection solution at application level for a site with this level of traffic.
Results
Using the DeviceAtlas module for NGINX, TransferMarkt benefits from:

Instantaneous Device Awareness at the web site edge — the task of device detection is offloaded to NGINX to ease the burden on application servers
Applications behind NGINX obtain device capabilities simultaneously with the first request from the client
Minimal processing overhead — the DeviceAtlas module carries only a 2-3% extra CPU time overhead on the NGINX server
A smaller overall memory footprint than a similar web server technology would incur
About NGINX
NGINX is a high performance, high concurrency feature-rich web server excelling at large scale content delivery, web acceleration and protecting application containers. It can act as a HTTP server, a load balancer and reverse proxy server, or a mail proxy server. Sites such as Netflix, Hulu, WordPress.com, and Sourceforge.com run Nginx.
Contact us to now to get up and running with a free trial.