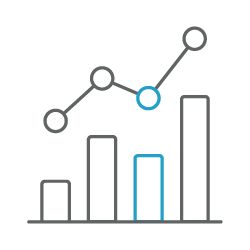 With smartphones becoming an essential aspect of everyday lives for most people, new mobile services, and phone capabilities continue to change the way these devices are used in various corners of the globe. We collected 17 recent statistics to help you better understand the current state of the mobile market in 2017.
There are plenty of sources sharing statistics on the mobile market but sometimes it may not be easy to notice which of them are actually up to date. In such a fluid industry, what was true three years ago may not be valid today.
Here at DeviceAtlas we follow all the latest news in the mobile world, and to make it easier for you, we curated a list of the most useful statistics on the mobile market which show the direction the industry is evolving in 2017.
1. There were 2.1 billion people who used a smartphone in 2016
According to an estimation by eMarketer, as much as 49% of all mobile phone users used a smartphone in 2016. The overall number of phone users is estimated to reach 4.3 billion representing 58.7% of the world's population. eMarketer said this figure will grow to 4.78 billion by 2020.
eMarketer's estimation is in line with numbers released by Statista which said that there were 2.1 billion smartphone users worldwide in 2016.
2. 77% of Americans owned a smartphone in 2016
According to a survey study by Pew Internet released in January 2017, 77% of phone users in the USA owned a smartphone (78% men and 75% women).
The study revealed an even more interesting fact that as much as 18% of Americans owned a feature phone at the time of the survey. Also, 51% of people in the USA owned a tablet and 22% had an e-reader.
eMarketer estimates that around 12% of American internet users were mobile-only in 2016.
3. 4G traffic accounted for 69% of all mobile web traffic in 2016
Web traffic generated through 4G networks accounted for 69% of all mobile web visits in 2016, according to Cisco which also said that 4G connections represented only 26% of all mobile connections in 2016.
Interestingly, 2G technology remains dominant worldwide with the share of 2G "connections and devices" at 41% in 2016. The share of 3G and 3.5G devices and connections is expected to surpass 2G only after 2018.
In terms of 4G availability, OpenSignal said in its November 2016 report that the highest 4G availability was reported in South Korea (95%), followed by Japan (92%) and Lithuania (85%). Users in Singapore enjoyed the fastest average download speeds at 45.86Mb/s, while South Korea came second (45.77Mb/s) and Hungary third (40.61Mb/s).
4. 51% of all digital ad budgets were spent on mobile in 2016
The latest study from IAB and PricewaterhouseCoopers reported that digital ad revenue reached $72.5 billion in 2016, which is a 22% growth comparing to the year before. The report also said that for the first time, mobile ads accounted for over half of that sum ($36.6 billion or 51%).
For comparison, in 2016 video advertising spend was at $9.1 billion, social media was at $16.3 billion and search was at $35 billion.
5. Android is the world's most used operating system in 2017, surpassing Windows
According to StatCounter, Android with 38.9% market share is now the most used operating system not just in terms of mobile devices but considering all OSes. It means Android is more popular than Windows (36.9%), while iOS is ranked third with 13.45% share worldwide.
Similar findings were included in the DeviceAtlas Mobile Report for Q4 2016 which reported that Android was the most used in 42 countries, while iOS was leading in 13 countries in the last quarter of 2016.
Today the choice of mobile operating systems is practically restricted to Android and iOS. Gartner reported that in Q4 2016 Blackberry had "0%" market share in terms of sales, while for Windows it was only 0.3%.
6. Samsung is the leading phone maker (22.8% share) followed by Apple and Huawei (Q1 2017)
In terms of sales, Samsung is the leading phone maker with shipments at 79.2 million which gives the Korean maker 22.8% market share in Q1 2017 (IDC). During that period Apple sold 51.6 million phones which is 14.9% of the market.
Chinese makers, including Huawei, OPPO and Vivo came 3rd, 4th, and 5th respectively in IDC's sales ranking. Companies other than the top 5 sold 138.7 million units in Q1 2017 which accounts for 39.9% of the whole smartphone market.
According to DeviceAtlas web browsing statistics, either Samsung or Apple are the most used depending on the local market. Apple is the most used in Australia, USA, France, and the UK with over 50% of share. Samsung is the most used in Brazil, Germany, and Italy where it reached over 40% in 2016.
7. 5-5.1-inch is the most used screen size, 720x1280 is the most used screen resolution
5-5.1-inch was arguably the most used screen size category according to DeviceAtlas Mobile Web Report for Q1 2017, reaching over 30% of web traffic share in Brazil, Colombia, Germany, India, Italy, Poland, South Africa, and Spain. This isn't surprising given the massive popularity of Samsung Galaxy S6 and S7 which are both 5.1-inch devices. According to web traffic statistics from previous periods, all screen sizes larger than 5 inches were the fastest to grow in 2016.
DeviceAtlas web browsing statistics also revealed that 720x1280 was the most used smartphone screen resolution as of Q3 2016. Other widely popular smartphone screen resolution mentioned in the report was the QHD or 1440x2560 which was the fastest growing among the 20 countries analyzed.
8. 4-inch iPhones accounted for 16% of all iPhone sales in 2016
In terms of premium devices, Apple is now the only smartphone maker offering a 4-inch phone in the form of the iPhone SE. Business Insider reported that 4-inch iPhones accounted for 16% of all iPhone sales in 2016 which is around 33.9 million units.
According to DeviceAtlas web traffic statistics for Q4 2016, 4-inch iPhones (iPhone 5/5S/5C/SE) were nearly as popular as the 4.7-inch version (iPhone 6/6S/7), while the 5.5-inch Plus version was the least popular of all Apple phones.
4-inch iPhones are most used in Canada, France, Japan, Russia, Sweden, UK and USA where they reached over 15% of web traffic share. The stats also revealed that old iPhones, such as 2G, 3G, 3GS, 4 and 4S were still popular in many countries getting up to 2-3% of share in France, Russia, and Japan.
9. Samsung Browser is the third most used mobile browser in the largest markets
In the Android world, it is common for device makers to release their own software which often replaces default apps from Google. This was the case for Samsung whose Samsung Browser is now the third most popular mobile browser in the largest markets including Germany (24.6%), South Korea (18.2%), and UK (16.5%) according to web traffic statistics.
Depending on the local market, the leader is either Safari or Chrome Mobile. Chrome Mobile is leading in Italy, Spain, and India, while Safari dominates in France, UK, and the USA.
According to StatCounter's data for all countries, the most used mobile browser is Chrome with over 48% share, followed by Safari (18%), UC Browser (15%) and Samsung Browser (6%).
10. 80% of top Alexa websites were adaptive as of March 2017
In March 2017 mobiForge reported that as much as 80% of the top 100 websites according to Alexa used Adaptive Web Design (AWD) or server-side adaptation to cater to different device types.
Comparing to the previous research which mobiForge did in 2012, the change was negligible at 82% vs 80%. If you look at the top 10 Alexa websites, 9 out of 10 used AWD in 2017 as opposed to 8 out of 10 using adaptiveness in 2012.
11. 19 seconds is the average loading time on mobile
According to a recent study by Google's DoubleClick, delays in loading websites on mobile can be severe. The average loading time on mobile, on a 3G network, is at 19 seconds, while at the same time 53% of mobile users abandon websites which take longer than 3 seconds to load.
Interestingly, the study also said that websites which loaded in 5 seconds vs 19 seconds saw 25% more ad visibility, 70% longer session duration, and bounce rate reduced by 35%. Also, faster websites earned 2x more mobile ad revenue.
Source: 1
12. 10.5 seconds is the average loading time for major news websites
DeviceAtlas conducted a research on 50 most popular websites that belong to print newspapers from 18 countries to learn how they fare in terms of load times on mobile. Testing conditions included a mid-range Nexus 5X with connectivity limited to 1.5 Mb/s.
After running a number of tests on different days the DeviceAtlas team learned that the average load time was at 10.5 seconds, while the slowest websites loaded in 19-22 seconds. Page weight was 1.35 MB on average, with the heaviest websites reaching 2.7-5.3 MB.
The same research revealed that as much as 30% of news websites redirected its mobile users to a mobile-optimized URL, such as m-dot, mobile-dot or dot-mobil. The fastest news websites were from India, all of which used a mobile URL redirection, with average load time at 7.7 seconds.
Source: 1
13. Mobile delays are more stressful than watching horror movies
In 2016 Ericsson conducted a neuroscience study to better understand the users' reactions to stressful situations, including delays in load times on mobile.
The researchers found that within the test group, heart rate increased by 38% due to mobile delays. The overall result was that the stress levels caused by mobile delays were comparable to that related to watching a horror movie.
Source: 1
14. Users spent 68% of media time using smartphones in 2016
The latest ComScore report released in 2016 said that as much as 68% of "media time" is spent using mobile devices, with half of that time dedicated to using mobile apps. This certainly includes social media, music, video, and, more importantly, games. Web browsing on the phone is estimated at 7% while for tablets it's 2%.
Deloitte's survey also revealed some interesting stats on how people in the USA use their smartphones. In 2016 checking text or IM messages was the very first thing 35% of users do on their smartphones in the morning, which increased by 6% since 2014. Less popular activities were checking e-mail (22%), checking social networks (12%), and checking the weather (7%).
Only 3% of smartphone users started their day by checking the news on their phone.
15. 71% of teens spend 3+ hours daily watching videos on their phones
Another Google's study revealed some interesting trends in how generation Z uses smartphones and other connected devices.
The research revealed that for the youngest generation of consumers, smartphones have become the most often used device. As much as 78% of teens use smartphones, compared to 68% watching television, and 52% using tablets. They typically get their first smartphone at the age of 12.
Watching videos is the most popular way to use smartphones for 71% of teens who spend 3+ hours a day on this activity. 52% spend 3+ hours using messaging apps, while 51% spend this time on using social networks.
Source: 1
16. 36% of users who start the purchase process on mobile finish it on a different device
Mobile optimization is a major concern for eCommerce businesses highlighted by Monetate. The company showed in its Ecommerce Quarterly Report for Q1 2016 that:
When browsing starts on desktop, 99% of purchases occur on desktop
When browsing starts on mobile, 64% of purchases occur on mobile (users switch to other device to complete the purchase)
Monetate also reported that 3.89% was the average conversion rate for desktop, compared with 1.43% for mobile. The add-to-cart rate for desktop was 11%, compared with 7.05% for mobile.
17. 14% of American shoppers used in-store mobile payments in 2016
With the proliferation of Android Pay and Apple Pay, mobile payments are generally available but the adoption level is still rather low.
According to Deloitte's 2016 Global Mobile Consumer Survey, only 14% of American shoppers used in-store mobile payments in 2016. 8% of respondents said they used them once a month and 6% said they used them once a week.
Source: 1
Download the latest Mobile Report
Bringing you the latest developments on the global device landscape.
Latest trends on tablet usage
Apple v Samsung market share
Top screen sizes and resolutions
LTE and NFC penetration
All statistics represent the share of web traffic in selected countries based on mobile visits tracked by DeviceAtlas.
Get your copy >>