You might think the largest news sites would be pretty stellar in terms of web performance on mobile, but the reality is far from ideal. According to the new research by DeviceAtlas, the average load time on mobile for newspaper websites is around 10.5 seconds with the slowest websites reaching 19-22 seconds. Interestingly, according to Google, 53% of mobile users only wait 3 seconds before they abandon websites that don't load.
Newspaper websites' web performance on mobile
With the proliferation of Google's AMP, bad web performance on mobile has become a mainstream issue covered even by non-tech media such as Forbes. It seems that only recently a lot of companies began to understand how important it is to make sure that the website not just looks great on mobile but more importantly loads fast, especially for users who aren't connected to WiFi.
Given that web optimization is one of DeviceAtlas's core use cases, we decided to run a research project which shows how the largest newspaper websites fare in terms of load times and page weights on mobile.
Tests were done with a Chrome plugin that emulates the Nexus 5X, a mid-range smartphone from two years ago, with connectivity limited to 1.5 Mb/s. We also used our own tool called mobiReady which shows website visualization and measures page weight across three different types of mobile devices ranging from low, mid and high-end.
For this test, we selected 50 various daily newspaper websites from around the globe representing 18 countries, including USA, UK, France, Spain, Germany, India, Italy, Japan, Russia, Australia, Austria, Egypt, Finland, Holland, Norway, South Korea, Sweden, and Turkey. These newspaper websites were handpicked by our team based on circulation figures.
Here's what we learned after running a number of web performance tests on different days:
10.5 seconds is the average load time on mobile for all 50 websites tested
1.35 MB is the average load time on mobile
Fastest websites are in India loading in 7.7 seconds on average
30% of websites use some form of URL redirection (all Indian websites tested do!)
Slowest websites loaded in 19-22 seconds (lavanguardia.com, ahram.org.eg, wsj.com)
Fastest websites loaded in 2-3 seconds (welt.de, rg.ru, ft.com)
Accessing wsj.com costs $0.39 in the USA based on average mobile data prices
Is 10.5 seconds a lot? To give you an idea, we may quote Google's DoubleClick study which said that as much as 53% of users abandon websites that take longer than 3 seconds to load. The vast majority of newspaper websites exceed that threshold which inevitably increases bounce rate and decreases pages per session on mobile. It's important to notice that a lot of news content is consumed "on-the-go" with less than optimal connectivity which makes it close to our testing conditions of 1.5 Mb/s.
Web Performance: 5 quick wins to drastically improve load times
How to optimize your site's page weight and loading speed based on the knowledge of visiting devices.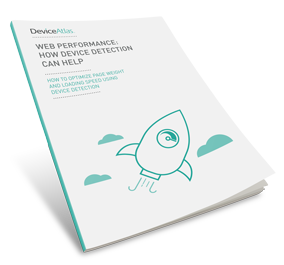 Optimizing images for all devices on all connectivity levels
Selectively loading images based on the type of input device
Boosting web performance by using bot and crawler detection.
Mobile websites faster in emerging markets
What's particularly interesting is the load time for countries and regions. According to our test, the average load time for Indian newspaper websites was only 7.7 seconds which was significantly lower than for the USA (10.4), France (11.4), or Spain (12.8). All Indian websites used some form of mobile URL redirection which is a yet another sign that these websites were optimized for mobile.
According to DeviceAtlas Q4 2016 Mobile Report, the Indian market is driven by many low and mid-range phones. The report indicated that the top 5 phones in this country include Samsung Galaxy J2, J7 Duo, and Xiaomi Redmi Note 2, none of which is a really capable, high-end device. Also, as much as 44% of all Internet users in India are mobile-only with no constant access to broadband Internet, according to Telecom Regulatory Authority of India.
Accessing heavy websites may be costly
The new report also shows how expensive it may be for mobile users to access some of the heaviest and slowest websites around the world. To measure this, we used whatdoesmysitecost.com, a free tool which is based on mobile data costs in various countries provided by the International Telecommunication Union (ITU).
The ITU's cost that we used for this research relates to the least expensive post-paid mobile data plan with at least 500MB allowance offered by the largest mobile operators in various corners of the globe. While this is not exactly what users in different countries pay to access websites, it's a pretty good indication of the impact that heavy websites have on our pockets.
Here are some example amounts required to access selected websites in some countries:
$0.69 for opening laTribune.fr in Canada
$0.47 for opening Krone.at in Germany
$0.39 for opening wsj.com in the USA
$0.31 for opening theguardian.co.uk un the USA
$0.13 for opening washingtonpost.com in the USA
The main takeaway here is that if your mobile data subscription feels a bit pricey compared to other countries, the lack of mobile page weight optimization is one of the culprits behind it.
Bring device intelligence to your web applications in minutes.
For the web, native apps and mobile operator environments.
Latest device usage statistics for Q1 2017
Apart from the newspaper website web performance research, the report also reveals that:
5-5.1-inch is now the most popular diagonal screen size category
Samsung lost a lot of web traffic share between Q4 2016 and Q1 2017
NFC phones generate over 70% of web traffic in developed countries but for emerging markets, it can get as low as 30%
Download the latest Mobile Report
Bringing you the latest developments on the global device landscape.
iOS v Android market share - Android wins in Sweden
The smartphone upgrade cycle visualized
The most common smartphone CPU/GPU/RAM and screen resolutions across the globe
All statistics represent the share of web traffic in selected countries based on mobile visits tracked by DeviceAtlas.
Get your copy >>