With 2020 underway, we take a look at industry predictions for the year ahead to find out what the world of smartphones, mobile advertising and the broader internet as a whole has in store for us.
As we have each year in this piece, we will cite a combination of industry experts and professional reports mixed with our own opinions and link to relevant blog posts we have published.
1. Smartphone sales will grow
The most popular smartphone in many countries around the world, including Germany, the USA, Colombia, Japan, Singapore and Australia among others, is the 2016 iPhone 7 yet again. The evidence points to the fact that users still benefit from a model with a lower price point, albeit slightly outdated, but still runs regular updates, rather than forking out over $1,000 for the newest model.
In August 2019, Gartner reported that overall smartphone sales declined by almost 2% in Q2 of 2019, although Samsung smartphone sales grew for the first time after six consecutive quarterly declines. Huawei and Samsung were the strongest vendors, showing annual sales increases in Q2 2019, and growing market share between 1.1% (Samsung) and 2.5% (Huawei).
More recently (November 2019) and as seen in the below chart, IDC revealed that global smartphone shipments increased by 0.8% in Q3, attributing the rise to increased demand from emerging markets and the growing popularity of Chinese brands.

This growth, albeit it 0.8%, is a considerable development due to the previous decline recorded for seven consecutive quarters. Experts believe that the increase in shipments is due to the rise of Chinese brands as well as mass consumer spending days, similar to Black Friday sales in the US. Big spending days are now increasingly prevalent on a global scale (the term 'Black Friday' is now known to be a mass sale day used by Australian retailers too).
But what about 2020? While there have been 3 consecutive years of decline, we expect, along with many other experts, that global smartphone shipments will grow in 2020. As we noted last year in our blog "19 Mobile Web Predictions for 2019", we expected a decline in sales in 2019 and hoped that OEMs would increase innovation levels to help drive sales. However, similar to previous years, innovation did not increase sufficiently enough to persuade the masses to upgrade their device. We expect this to change in 2020 primarily due to increasing availability of, and excitement towards, 5G technology.
2. People will spend even more time online
Industry oracle Mary Meeker compiled eMarketer research to highlight, in the below chart, the increasing amount of hours spent with digital media per day in the USA and we expect this trend to continue on a global scale in 2020.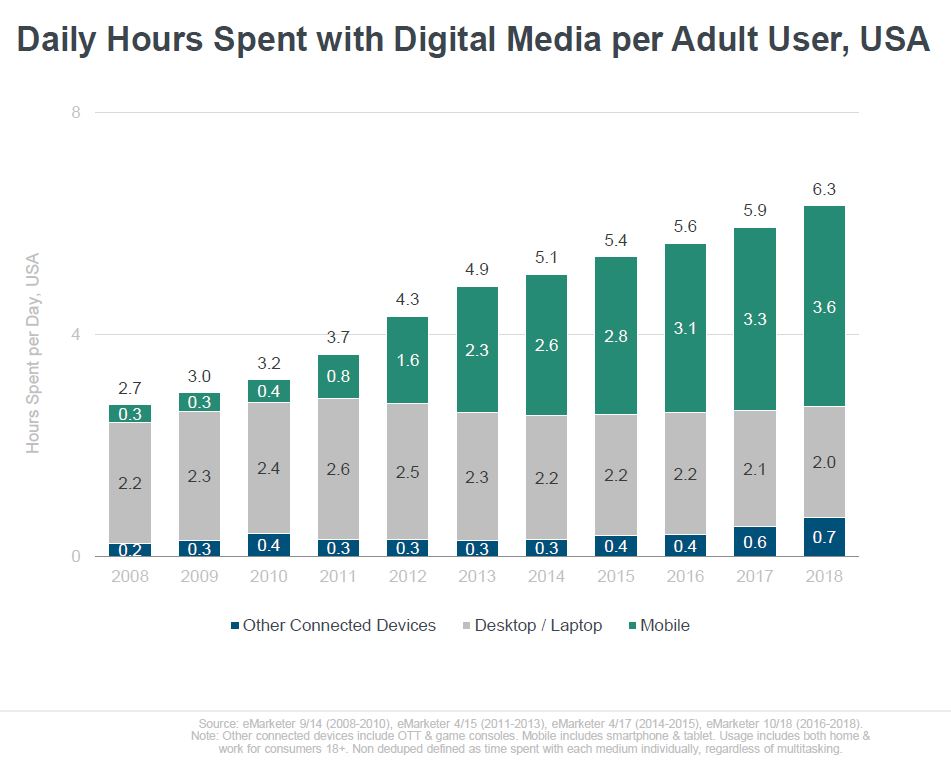 In 2018, adults in the US spent 6.3 hours with digital media each day, of which 3.6 hours were on mobile (i.e. smartphone and tablet) devices. Significantly, the growth areas are in mobile usage and "Other Connected Devices" (i.e. OTT and game consoles) with desktop/laptop remaining somewhat static. This highlights the increasing importance of building web experiences for all connected devices, or at least for the connected devices that you identify as the most strategically important for your business.
DeviceAtlas enables you to optimize user experience and reduce bounce rates by segmenting visitors according to their device profile – learn more about how we can help you with your web optimization & performance.
3. Mobile ad spend will increase by 21% (v 2019)
An increase in ad spend can only be expected for 2020, especially considering the previous prediction directly above.
By looking at the chart below, we can see from eMarketer's US spend predictions 2016-2022 that there is expected to be an increase of close to $20 billion (i.e. 21%) in mobile ad spend. In 2019 the difference between mobile and desktop ad spend was expected to be more than $54 billion and in 2020 it is forecasted to be almost $70 billion.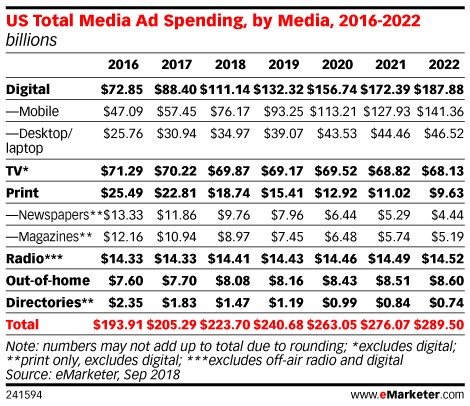 This expected increase in mobile ad spend indicates that even more businesses are identifying opportunities in mobile advertising and benefitting from the ability to hyper target potential customers. Learn more about how DeviceAtlas is used by the advertising industry.
4. OTT reach and advertising will continue to grow
With more time being spent online combined with the ever-increasing number of connected devices and demand for video, it's no surprise that we expect OTT video viewing to continue its growth in 2020. Comscore, in their third annual (2019) "State of OTT" report, note that OTT viewing has become "a mainstream behavior in the United States with OTT households growing by more than 25 percent in the past two years". In the same report Comscore notes that Smart TVs are the fastest growing streaming segment in the US – the year-on-year growth breakdown by device can be seen below: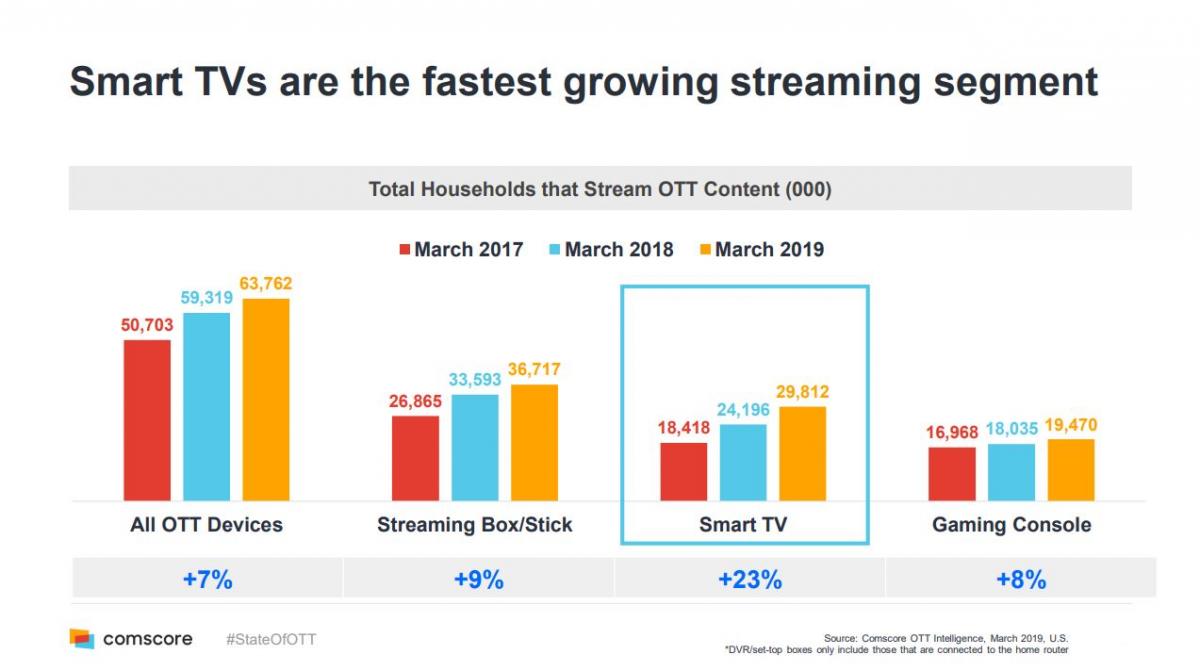 Source: Comscore OTT Intelligence, March 2019, U.S.
Significantly for brands and advertising platforms, ad completion rates on connected TVs can reach up to 98%. DeviceAtlas helps a range of top players in the advertising ecosystem identify traffic from OTT devices such as Google Chromecast, Roku, Apple TV and Smart TVs – learn more about our OTT and connected TV device intelligence solution.
5. App store spend will increase
Largely driven by the rise of subscription apps and gaming content, global spend on iOS and Google Play apps is expected to increase well into the future and mobile gaming is expected to reach $100B+ across all mobile app stores in 2020.
According to App Annie, worldwide consumer spend on games in 2017 was over $50B, and in 2020 is expected to reach close to $80B! Worldwide consumer spend on Apps also shows a significant increase; in 2017 app purchases were around the $13B mark and are expected to soar above $30B in 2020.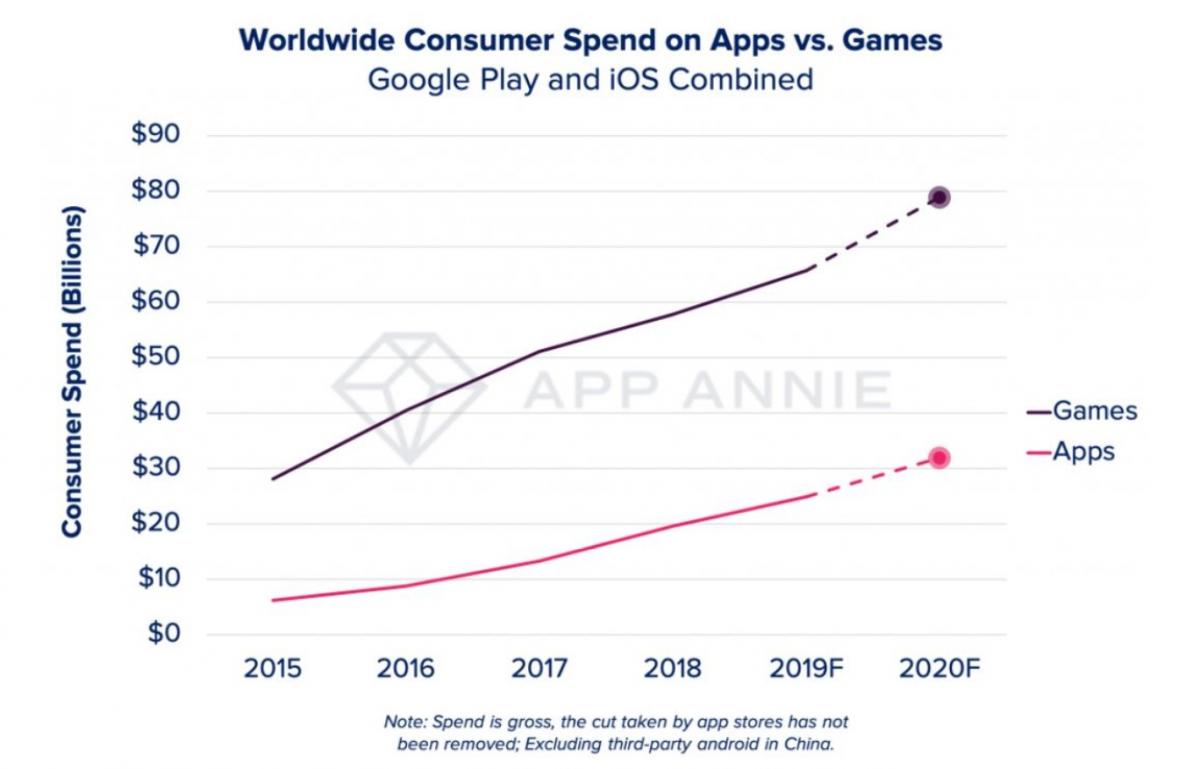 App Annie also predicts that spending on games in app stores will reach $100 billion in 2020, while 2019 saw 25% more spend in mobile gaming than any other platform - PC/Mac, console, handheld and mobile.
Games like Call of Duty and Mario Cart Tour launched in 2019, helping the public's perception of mobile games reach that of traditional consoles, with improvements in hardware and cross-platform functionality also adding momentum.
Mobile gaming has been on the incline for many years – time spent on our personal devices continues to increase with the enhancements in mobile gaming capabilities and mobile experiences. Apple's list of Best Apps and Games for 2019 places Sky: Children of the Light, a free to download app developed by thatgamecompany, as the iPhone Game of the Year. This game displays exceptional design and animation, and provides users with an immersive, customizable and social experience.

Source: thatskygame.com.
Sky: Children of the Light was first built for iOS devices and is now available for pre-registration on Google Play. Additionally, there are plans to release the game on macOS, tvOS, PC and console.
To maintain an immersive experience across platforms and devices it is important for companies developing mobile games to implement an effective device intelligence strategy for their apps.
6. Further rise in video advertising
Video content continues to increase in popularity and is expected to continue this trend in 2020, because the content is entertaining, accessible and convenient for users. Cisco believes that by 2022 Global IP video traffic will grow four-fold, and video will account for 82% of all IP traffic by 2022.
With the surge in video consumption unlikely to stop, video advertising has a massive opportunity for expanding reach and impact. Last year's Netflix subscription price hike had consumers admitting that they would tolerate a cheaper service that was supported by ads. Netflix began testing ads in between episodes in 2018, so it's reasonable to assume the space will be opened up to outside advertisers eventually, especially if that means more subscribers.
It's not just content providers and streaming services that are providing opportunities for video advertising – there's room to expand your brand's reach across social media platforms and advertising networks. More and more brands are leveraging video to communicate more effectively to their target market, and we expect this rise to continue in 2020 and beyond.
Download our Guide to Device Detection for Video Advertising.
7. Growth in counterfeit smartphones
A study by the OECD and the EUIPO, published March 2019, highlighted a growing trend in the trade of counterfeit and pirated goods. Counterfeit devices, according to an EUIPO-ITU study published in 2017, represent close to 13% of mobile phones sold globally.
We expect the number of counterfeit devices to continue to grow in 2020. This growing threat should be of particular concern within the Enterprise Security industry, and for businesses in general, with additional trends, such as the increased popularity and adoption of remote working and BYOD practices, further increasing risk.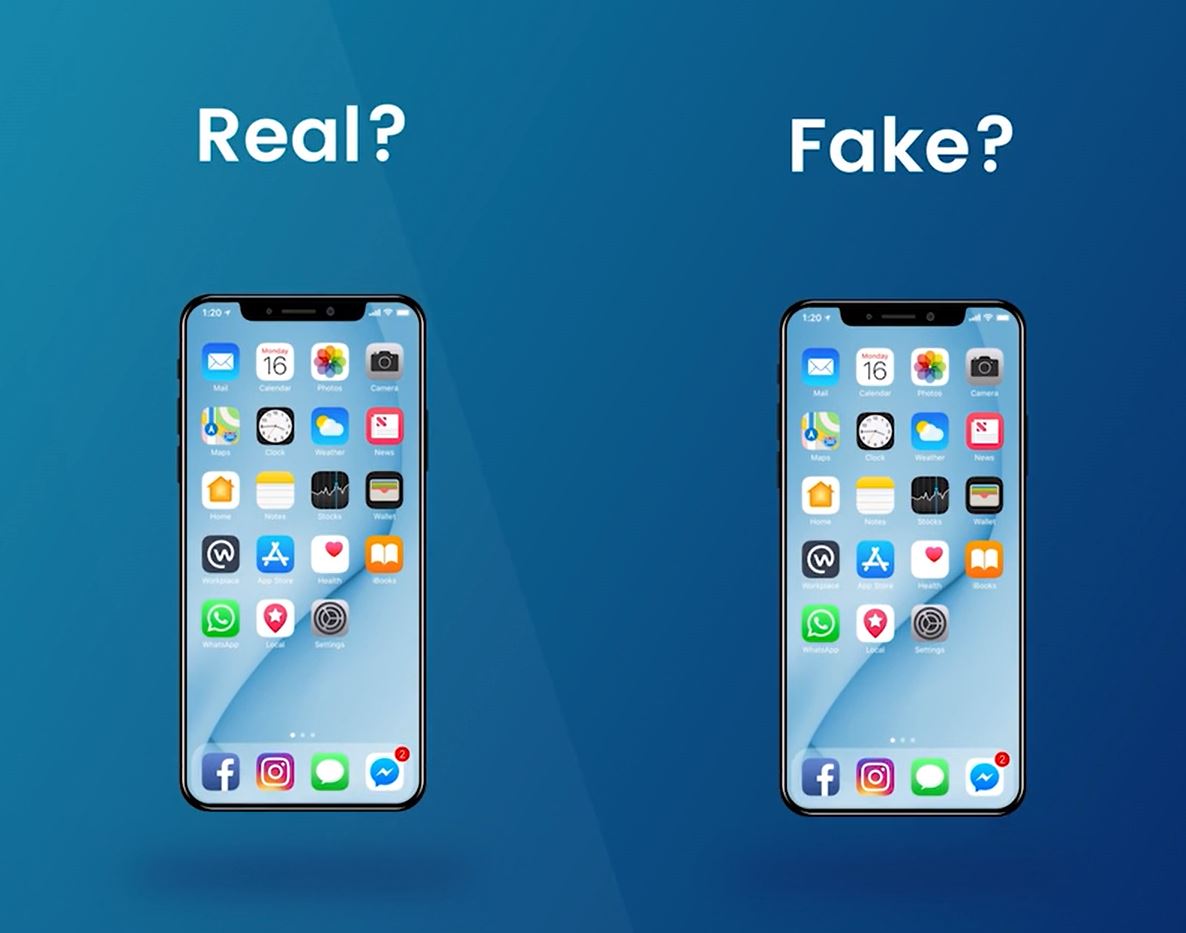 To counteract counterfeiters, determine if devices are authentic or fake before they enter your network – see how DeviceAssure, a sister offering of DeviceAtlas, can help.
8. eSim adoption will continue to increase significantly
eSIM, i.e. embedded SIM, adoption is expected to increase significantly in the coming years. Counterpoint research notes that "shipments of eSIM-based devices will reach almost two billion units by 2025, up from 364 million in 2018", primarily due to smartphones and enterprise IoT devices.
Many device manufacturers, including Apple and Google, have already adopted eSIM within their newer connected devices. The chart below (source: Counterpoint) illustrates eSIM-based device shipments and eSIM adoption growth segmented into different device categories: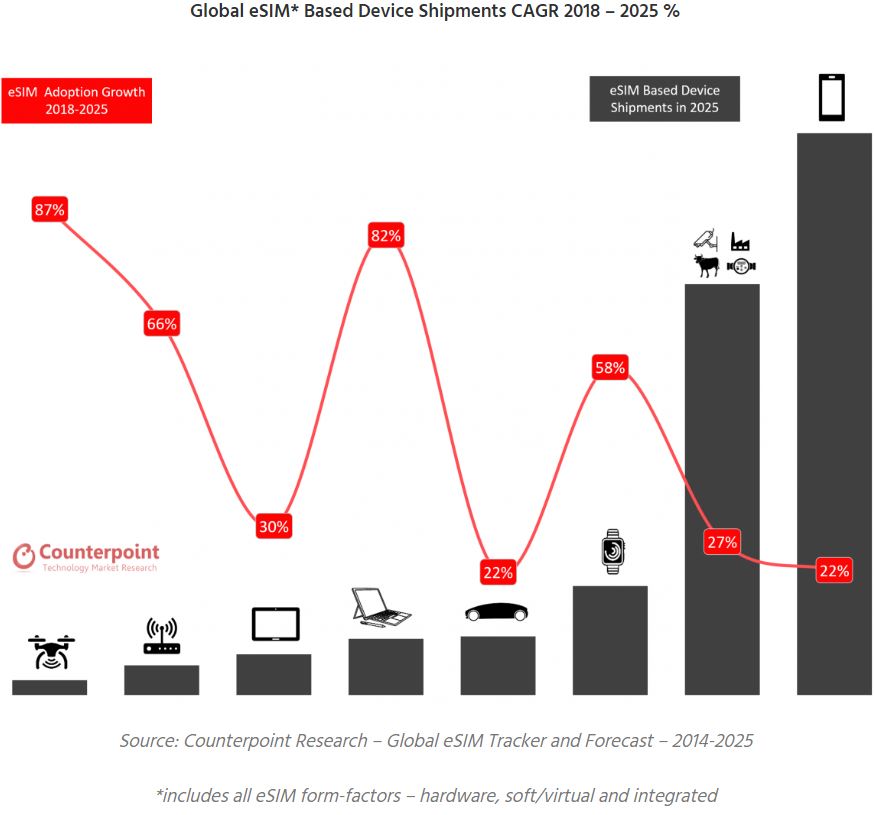 Detecting if a device has eSIM functionality, which DeviceAtlas enables, can be commercially valuable for businesses. For example, advertising platforms can offer their customers eSIM targeting options which can enable network operators to cost effectively promote their bill pay plans to their competitor's customers – a powerful capability as eSIM makes switching network providers easier.
9. The Internet of Things will spill into everything
With each passing year, the Internet of Things (IoT) becomes closer to mainstream reality. The level of connected devices will increase substantially in 2020 and beyond, due to technology (e.g. eSIM, iSIM, 5G) enhancing and becoming ever more cost-effective (e.g. GSM modules can now cost less than $0.50).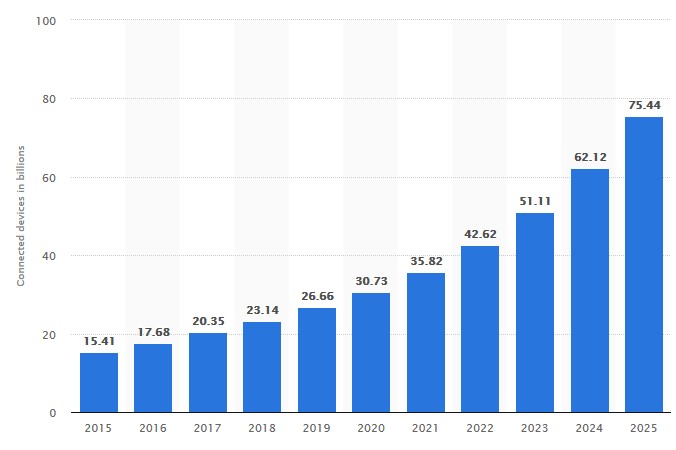 Statista predict 30.73 billion IoT devices will exist in 2020, with an increase expected over the next five years bringing the total number of expected IoT devices to close to 80 million by 2025. The value of IoT is expected to reach $11.1 trillion globally by 2025.
IoT seems to have endless applications, from smart homes to smart cities, Internet of Battlefield Things (IoBT) to Internet of Medical Things (IoMT), the opportunities for innovation within industries appears endless. The advancement of IoT also brings challenges. For example, with the rate of growth in the diversity of connected devices, the challenge for mobile network operators is to understand the real implications for their networks. Many of the new classes of terminal have very different behaviours on the network compared with the traditional voice and data capable cellphone. Learn more about the challenge faced by mobile operators and how DeviceAtlas can help.
10. Enhanced privacy controls
Scandals and data breaches have led more and more people to demand greater transparency and control over data, and the tech industry and governments are responding. GDPR came into force in the EU in 2018 requiring higher standards of data protection for individuals and imposing increased obligations on organisations. More recently, the California Consumer Privacy Act (CCPA) came into effect. This is another monumental regulatory development that secures new privacy rights but for California consumers. With California being the 5th largest economy in the world and the home of tech giants such as Google and Facebook, this development will have arguably a greater impact globally compared to GDPR.
Businesses have already taken steps to enhance privacy. Google currently plans to phase out 3rd party cookie support in Chrome with the aim of enhancing privacy on the web (learn more about Google's Privacy Sandbox) and Apple recently implemented significant privacy updates in Safari.
These substantial regulatory developments and significant policy changes being implemented by tech giants will enhance privacy controls in 2020 and beyond.
Implementation of privacy policies should be supported by effective enterprise security systems to help ensure that user data remains private. Counterfeit devices, as mentioned previously, is a growing risk for businesses – to help ensure private data on your network remains private, identify counterfeit devices in real-time with DeviceAssure.
11. More apps will begin to market to us with in-app advertising
There's no such thing as a free lunch, and it's increasingly the case that there's no such thing as a free app, either.
Apple Arcade & Google Play Pass, launched in September 2019, will have an impact on the in-app advertising market as apps accessible via their subscriptions will not have in-app advertising. However, despite this, we still expect to see more apps market to us with in-app advertising in 2020 due to the ever-increasing number of new apps being developed and how effective in-app advertising is at driving app downloads. Regarding the top 100 apps and games in the US, App Annie revealed that paid in-app advertising drove nearly 45% of downloads in the 1st half of 2019, as seen in the following chart: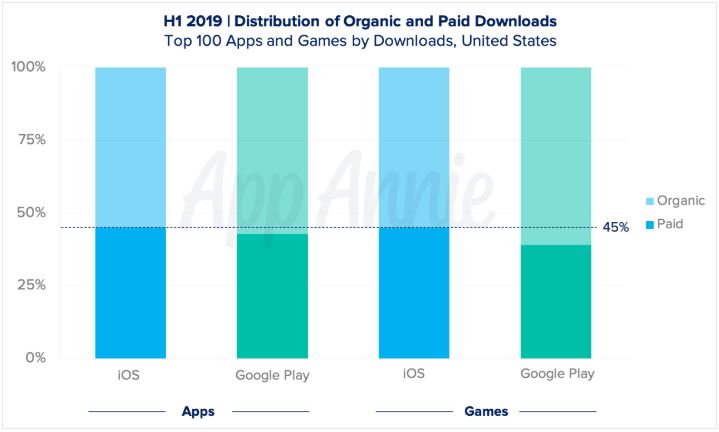 Device intelligence can provide effective targeting options to enhance the ROI of in-app advertising. By targeting specific devices, in-app advertisers can avoid paying for app installs on unsupported devices. Learn more about our ad-tech solution.
12. Cloud will ease the burden on smartphones
With the explosion in popularity of resource-heavy games and applications, increased demands for processing power and storage space may begin to eclipse even the most modern of 'cloud' devices.
By taking some of the burden away from people's smartphones, apps and games can run faster, with higher resolutions, and more processes - all handled somewhere off the device. While this relies on sufficient network speed and connection strength, the choice between offering a reduced experience or simply relocating some processes is a no-brainer.
Cisco research highlights that in 2020, fixed broadband speeds will be over 60 Mbps, which means cloud storage will be helpful in downloading large files at a faster speed. It's also worth noting that mobile data traffic is on the rise, and in 3 years, smartphones will account for 44% of total IP traffic, and mobile data traffic is expected to increase 7-fold by 2022. These trends indicate that cloud storage solutions are likely to be a way of the future for the majority (if not all) smartphone apps.
DeviceAtlas provides device intelligence in real-time, which can be used to identify if a user is on Wi-Fi or on a mobile network – key information that cloud solution providers and app developers can use to enhance end user experience.
13. KaiOS will continue to grow in popularity and feature phone shipments will increase
A report from Statista reveals that in 2019 KaiOS was sitting comfortably in third place for mobile operating system market share, a trend that is likely to be repeated again in 2020 due to the demand for feature phones and KaiOS being the major OS for these phones.
While they don't quite equate to the modern-day smartphone, these phones are becoming more prominent, with their connection to a number of popular apps, such as Facebook and WhatsApp, now able to be run on KaiOS. This option means consumers will still have access to everything they need via an internet connection, including the above mentioned apps, at a much lower cost.
Meanwhile, the talk of "peak smartphone" continues, as users seem happy with what their existing smart device has to offer, therefore are less likely to buy a new phone as often as they used to. As mentioned above, however, we expect that the increasing availability of, and excitement towards, 5G technology will help drive sales of newer high-end smartphones.
KaiOS's popularity has continued to grow since Google's investment in 2018. KaiOS has been busy enhancing the operating system, so that it is capable of running much-loved Google services including Search and Voice.
For companies, the key takeaway here is not to discount potential customers with older or lower-spec devices. Amazon, who have done pretty well for themselves, still offer a bare-bones version of their website for those on such devices – see how your website performs on high, mid and low-tier phones.
14. 5G will gain traction
To the uninitiated, 5G represents the next major leap in mobile connectivity, with promised speeds for users approaching 1 Gbit/s and a latency of 1ms.
When compared to 4G LTE, the consumer 5G spectrum (dubbed mmWave) runs at a much higher frequency, as well as requiring a lot of hardware and network infrastructure upgrades. This means, once the infrastructure is in place, the signal itself has more trouble finding its way to your phone. So much so, that it has been suggested that mmWave signals can be blocked by trees, buildings, your own hand, and can even be absorbed by oxygen, which could prove tricky here on Earth!
Despite these hurdles, we expect 5G networks to roll out across the globe at a greater pace and we expect to see most major smartphone manufacturers introduce 5G smartphones (or add more 5G smartphones to their product lines) in 2020. The smartphone rumour mill is working overtime, so expect many announcements in the early months of 2020, possibly at MWC Barcelona in February – which we are delighted to be attending, exhibiting and speaking at with our sister offering DeviceAssure.
15. PWAs will increase in popularity
PWAs, or Progressive Web Apps, can be tricky to define. While they may look and feel like you've simply added a shortcut to a particular website on your phone's home screen, PWAs offer offline functionality, as well as a significant reduction in load time. Smoother scrolling, full-screen: PWAs perform as well as a dedicated application would, however, they do have less access to device functions.
As well as the obvious advantages (time, effort, budget, no app store submission requirement) over traditional app development, the rewards can be huge if you do it right. As Google are keen to remind us, 53% of users will abandon a site if it takes longer than 3 seconds to load. For AliExpress, their PWA drove an 82% increase in iOS conversion rate, 2X pages viewed per session across all browsers and a 74% increase in time spent per session.
To learn more about PWAs visit Google's Developer website or get minimal PWA checklist from mobiForge.
Conclusion
It's clear that the mobile device landscape is becoming increasingly complex and fragmented. This is having a significant impact on end user experiences and the bottom line of many businesses. Some see these developments as challenges while others see them as opportunities to differentiate. DeviceAtlas helps you stay on top of this fast-changing device landscape by providing a detailed and real-time actionable view of how users access content and networks on a wide range of devices. To learn more about how market leaders are using our device intelligence solution.
Finally, and arguably most importantly, we hope you noticed the lack of the term "20/20 Vision" in this 2020 predictions post (you probably think it has been overused excessively too) – we've read the term "20/20 Vision" so often this month that it's a bit of a…spectacle!
Download the latest Mobile Report
Bringing you the latest developments on the global device landscape.
iOS v Android market share - Android wins in Sweden
The smartphone upgrade cycle visualized
The most common smartphone CPU/GPU/RAM and screen resolutions across the globe
All statistics represent the share of web traffic in selected countries based on mobile visits tracked by DeviceAtlas.
Get your copy >>