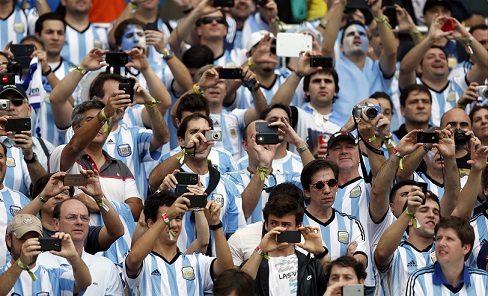 The most used smartphones in Argentina
The most popular phone in Argentina in 2017 was the iPhone 6, which has now been relegated to seventh on the list in 2018.
It's been a good year so far for Samsung Galaxy devices, particularly the J7 Metal Duos which increased its traffic share from 2.6% to 4.41%.
The iPhone 7 doubled in popularity since 2017, and is now the best performing Apple device in Argentina with 3.4%.
| Country | Position | Phone model | Traffic Share |
| --- | --- | --- | --- |
| Argentina | 1 | Samsung Galaxy J7 Metal Duos | 4.41% |
| Argentina | 2 | Samsung Galaxy J1 Ace | 3.84% |
| Argentina | 3 | Samsung Galaxy J2 Prime | 3.83% |
| Argentina | 4 | Samsung Galaxy J7 | 3.75% |
| Argentina | 5 | iPhone 7 | 3.4% |
| Argentina | 6 | Motorola Moto G | 3.33% |
| Argentina | 7 | iPhone 6 | 2.92% |
| Argentina | 8 | iPhone 6S | 2.79% |
| Argentina | 9 | iPhone 7 Plus | 2.62% |
| Argentina | 10 | Samsung Galaxy Grand Prime VE | 2.1% |
Looking for more information on devices? Here's our list of the most used screen resolutions in Argentina.
Samsung is the most popular vendor in Argentina
With 46.7% of overall traffic in our data, Samsung is the most popular device manufacturer in Argentina, with Apple second on 19.1%. However, it's not as binary a landscape as we see in most other countries across the world.
Motorola sit on a 11.3% share, LG 7.1%, and Huawei 4%, with Microsoft, Nokia, Sony and many more vendors taking an active share in the overall scene.
The most popular mobile operating system in Argentina is Android
With a massive 77.6% share of mobile web traffic in Q1 2018, Android is the clear leader in Argentina.

It has over 4 times the share of its closest competitor, regular rival iOS. Despite this huge lead, there's still some diversity at the lower end of the statistics, with Windows, Tizen, RIM, Symbian, LG and Nokia OS still in use to varying degrees.

Android 6 - Marshmallow - is the most active OS version in Argentina with a 23.8% overall share, with Android 7, 5.1 and iOS 11.2 all over 15%.

The latest Android version - Oreo - is way down the list, with a tiny 0.53% share. You can view the full spread of OS versions here.
The most common screen resolution is 720x1280
With Samsung Galaxy devices leading the popularity race in Argentina, 720x1280 claims over 30% of traffic share in our Q1 2018 data. Included in this are the Galaxy J2 and J7 range.
The next most popular screen resolution is 1080x1920, which - excluding the iPhone 6 Plus and 6S Plus - is an Android spec, including Sony Xperia, Galaxy A7, 8 and 9, Xiaomi's Redmi Note 2 and 3, and a whole host of ZTE and Oppo handsets.
The most popular mobile browser is Chrome Mobile
Chrome leads the way in Argentina, ahead of Safari 11, with almost four times the overall traffic share in Q1.
Samsung Browser may overtake Safari in the coming months, while there's a large gap between the top three and Internet Explorer in fourth.
The most up to date version of Chrome we see in our Q1 data from Argentina is Chrome 65 - released in March 2018. There's still no sign of 66 (April) or 67 (May). Over 47% of all traffic was driven by Chrome versions 62 to 65.
On the Safari side, 12.% of traffic came from Safari 11, with Safari 10 only accounting for 1.3%. You can view more data on Argentina's mobile browser use here.
Download the latest Mobile Report
Bringing you the latest developments on the global device landscape.
iOS v Android market share - Android wins in Sweden
The smartphone upgrade cycle visualized
The most common smartphone CPU/GPU/RAM and screen resolutions across the globe
All statistics represent the share of web traffic in selected countries based on mobile visits tracked by DeviceAtlas.
Get your copy >>