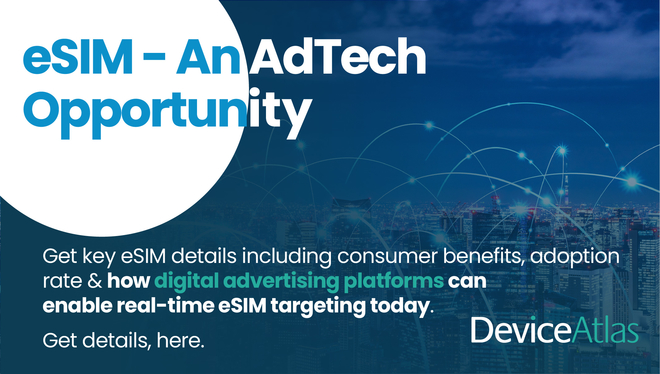 What Is eSIM?
eSIM, embedded SIM (Subscriber Identity Module), is the global specification for remote SIM provisioning of mobile devices. eSIM, also known as eUICC (Embedded Universal Integrated Circuit Card), refers to non-removable, programmable, virtual SIM cards.
eSIM is the newest generation of SIM cards. This latest generation takes SIM card provisioning into the digital world. The move from Nano-SIM to eSIM means that physical SIM cards don't need to be provisioned separately anymore, the same function can now be delivered remotely.
The move from physical to digital SIM cards enables many consumer and business benefits, which are particularly evident in the AdTech industry and Mobile Network Operator (MNO) ecosystem.
eSIM – Key Consumer Benefits And Adoption
eSIM generates many benefits to consumers such as increased convenience, flexibility and connectivity.
The remote provisioning of cell phone plans enables consumers to more easily, and quickly, access and switch between mobile network service providers. This capability is becoming increasingly available online and can be accessed at any time. The greater flexibility and convenience provided will likely result in an increased number of price plans, e.g. new plans tailored to travellers, and possibly reduced cell phone plan costs.
This cost reduction is expected due to a more streamlined supply chain for mobile network service providers (e.g. there will be no need to send physical SIM cards) and greater competition in the market, as a result of the increased ease of switching and a reduced barrier to entry.
Additionally, consumers will benefit from increased connectivity. eSIM saves battery and space compared to SIM cards, which better enables OEMs to provide connected devices. As a result, we are seeing an increase in connected devices such as smartwatches, wearable healthcare devices and IoT devices in general.
Counterpoint research notes that "shipments of eSIM-based devices will reach almost two billion units by 2025, up from 364 million in 2018", primarily due to smartphones and enterprise IoT devices. Many device manufacturers, including Apple and Google, have already adopted eSIM within their newer connected devices. The chart below illustrates eSIM-based device shipments and eSIM adoption growth segmented into different device categories: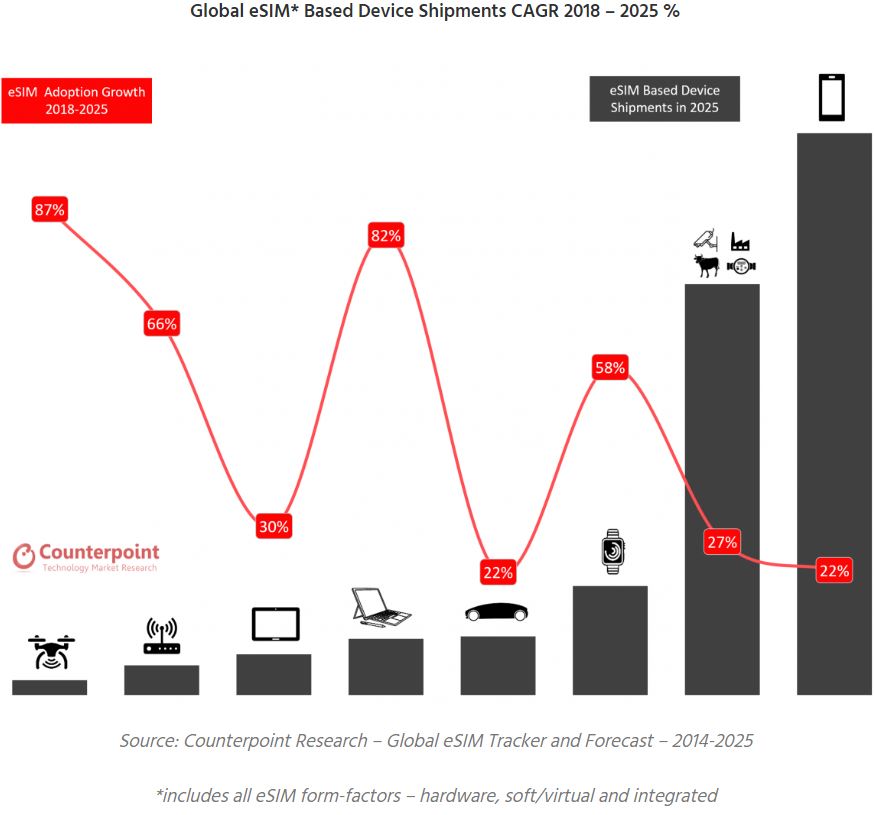 Source: Counterpoint
eSIM-AdTech Opportunity
The impact that eSIM is having on businesses is growing. Many industries are being impacted, and many challenges and opportunities are arising for businesses. This is particularly evident in the AdTech and Telecom industry for example.
In the Telecom industry, MNOs and Mobile Virtual Network Operators (MVNOs) are seeing and acting upon opportunities that have and are arising from eSIM. These opportunities extend beyond automation, supply chain and infrastructure enhancement opportunities to customer retention and growth opportunities.
The AdTech industry is in a position to help MNOs and MVNOs to leverage retention and growth opportunities, arising from advancing eSIM adoption, through enhanced analytics and targeted advertising capabilities. By enabling MNOs and MVNOs to target their cell phone plans to users with eSIM capable devices, AdTech platforms, specifically digital advertising platforms, can help their customer's reach their growth and retention goals. This also enhances AdTech inventory value and product offering, ultimately resulting in a more appealing advertising solution to an industry that invests heavily in digital advertising.
In 2019, eMarketer predicted that the 2020 digital ad spend, by the Telecom industry, would be $15.58 billion in the US alone. This, combined with the growth and adoption of eSIM devices, and the opportunities for MNOs and MVNOs means that the AdTech industry is in prime position to benefit and add value.
- How To Enable eSIM Targeting
eSIM devices are becoming increasingly common as more and more devices are being shipped with this capability. Consumer devices that have eSIM capability include, for example, iPhone 11, Apple Watch (not all watches in the series), Google Pixel 4, Samsung Galaxy Z Flip, Samsung Gear S3 frontier and Moto RAZR. To enable eSIM targeting, these and many more eSIM capable devices can be captured and then cross-referenced with user devices visiting a website. However, capturing and maintaining a database of eSIM capable devices is a significant commitment that many companies choose to outsource.
User-Agent string analysis can be used to identify devices visiting a website, but as this is not at the core of many businesses, companies regularly encounter accuracy, performance and maintenance issues. Valuable and actionable device insights can only be identified accurately through sustained and dedicated attention to mapping and interpreting entropy.
This is where AdTech industry leaders are benefiting, or can benefit, from DeviceAtlas. Through a simplified high-performance API, our market leading and futureproofed device intelligence solution enables advertising platforms to quickly and easily facilitate real-time eSIM targeting via our "eSIM Count" property.
DeviceAtlas is widely used in the advertising vertical, where speed and performance are key drivers. We work with many different players in the programmatic and RTB space (Exchanges, DSPs, and Ad Servers) who have stringent compliance requirements concerning ad delivery, performance, and targeting. DeviceAtlas powers trillions of ad placements per month, due to its market leading performance and reliability.
Learn more about how DeviceAtlas is used by leading companies in the advertising industry and get a trial, here.