Device intelligence offers a number of lucrative opportunities for streaming service providers: business analytics, optimization, device graph creation, measurement of password sharing, targeting for ads & communications, etc. In this article we look specifically at churn - a very topical subject in recent times - and how device intelligence can be leveraged against it.
SVoD in numbers
It's no surprise that streaming platforms have become something of a household name in recent years (quite literally!). Global revenue from the SVoD (subscription video on demand) industry is expected to reach $82 billion by the end of 2022, with a projected annual growth rate of 8.89% by 2026. Between Q1 of 2020 and Q2 of 2022, the Walt Disney Company saw an increase of over 100 million subscribers to its platform. Similarly, just 8% of viewers had a paid subscription with at least 4 streaming providers in 2019, vs 18% now in 2022.
Churning up the volume
While the adoption of SVoD has been staggering, it has had some negative consequences for streaming platforms as more service providers have launched. More choices for subscribers means higher churn, which has also been exacerbated by CPAs of (cost per acquisition) up to $200. Since 2020, average churn rates of SVoD services in the US have consistently stayed around the 37% mark, while in markets like the UK, Germany, Brazil and Japan, that number is closer to 30% (availability of providers as well as market penetration obviously affect numbers in each country).
While pricing will often be a factor in preventing churn, one 2021 study by PwC identified ease of use and high-quality content as two of the top three reasons why consumers preferred one streaming service over another. This insight, along with several similar research studies (1, 2, 3), suggests that streaming platforms must consider the overall user experience (UX) to combat churn and measure business success. One consideration for streaming providers is to predict churn before it happens by identifying patterns between subscribers' behaviours and activities. An effective way to do this is to understand the devices that subscribers are using.
Device Intelligence and Subscriber Insights
A significant correlation exists between device intelligence and subscriber insights. The device governs the user experience; therefore device intelligence is a proxy for user intelligence. As a result, knowing what device a subscriber is using to stream video content from is critical in reducing churn. For streaming platforms in particular device intelligence can be effective in several ways:
Business analytics
An important consideration for streaming providers is to ensure that UA strings of their player apps are optimised for device recognition. Having recognizable UA strings allows for better visibility on devices and their capabilities, and leveraging this intelligence provides an opportunity to establish patterns between device capabilities and churn. These patterns can be identified by BI teams separately or enriched via an existing web/app analytics provider (Adobe, Amplitude, Mixpanel) which can ultimately inform strategic decisions around optimization and ways to reduce churn.

Here are some important questions that may be answered with device intelligence:
What impact does device RAM or number of CPU cores have on content consumption?
What impact does screen size and resolution have on engagement levels?
Is there a correlation between device age and business metrics?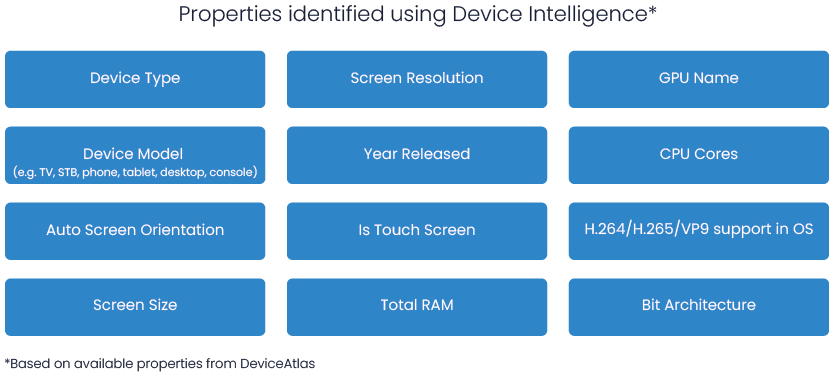 Content optimization
It's no secret that optimized content is crucial in reducing churn – content is king, as they say! Netflix works tirelessly to create seamless, yet immersive experiences for subscribers through content optimization and an extremely effective user journey from start to finish.
With device intelligence, content format decisions such as bitrate, frame rate, and codec can be tailored to device capabilities like screen resolution, RAM, GPU, etc. Many leading streaming providers maintain multiple versions of content with different encoding formats, which also lends itself to device intelligence providing real-time optimization to determine which content format should be served to a given subscriber based on the device they're using. Real time data on device capabilities accessing a streaming platform's content helps to maximize user engagement, improve monetization, and reduce churn.
Real time QoS / QoE monitoring
Quality of service (QoS) of course has a significant impact on quality of experience (QoE), particularly in relation to SVoD. We've also mentioned above that user experience is paramount in controlling subscriber churn, therefore factors affecting QoS / QoE must be identified to combat this. Device intelligence lends itself to the identification and resolution of device-specific service issues as they occur. For example, playback support properties such as H.264, H.265 and VP9 support in OS offers insight into the video capabilities of a device. With that knowledge, an opportunity arises to build better experiences across devices that are streaming content, thus leveraging device intelligence to continuously monitor QoS / QoE.
What does the future hold for streaming services?
Device fragmentation is only becoming more prevalent as more devices are being manufactured and sold. Cord cutting has also gained huge momentum, resulting in a more competitive landscape for streaming providers, particularly as users can easily cancel subscriptions. The need for differentiation is critical, and continuously measuring and improving UX is a major factor in companies succeeding.
A strategic goal of any streaming provider will be to reduce subscriber churn in order to improve customer lifetime value and brand loyalty. Integrating device intelligence with areas such as business analytics, content optimization and QoS/QoE real-time monitoring will help streaming providers to understand the user at the device level, thus improving UX and strategize effective ways to reduce churn.