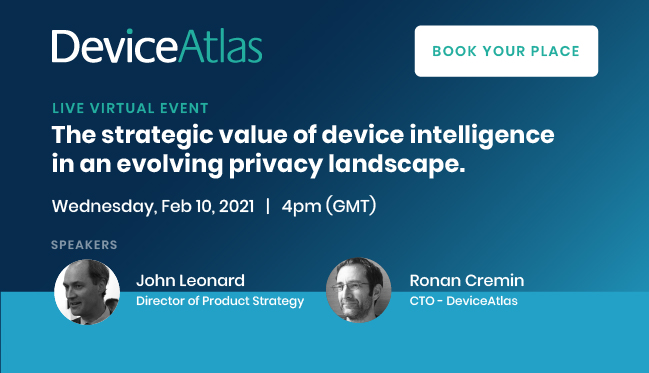 The increasing restrictions on user-level data is leading to many challenges for companies, particularly those in the AdTech, Publisher, eCommerce and general Digital Marketing space.
From the phasing out of 3rd party cookies, to opt-in only advertising IDs and an increasingly complex regulatory environment, these companies are operating in a rapidly developing landscape that is becoming more and more restrictive.
As a result, companies are turning to contextual data, more specifically device intelligence, to adapt and evolve with the developing landscape. This is because device intelligence offers valuable non-PII data that can be leveraged to:
Act as a gateway to the user;
Deepen user insight; and
Create a device-centric view across the Web, App and Mobile Operator ecosystems.
There are also many other device intelligence use cases, such as content adaptation, enhanced inventory value, etc.
Learn about key device intelligence use cases and more, join John Leonard, Director of Product Strategy, DeviceAtlas and Ronan Cremin, CTO, DeviceAtlas for our upcoming webinar, "The strategic value of Device Intelligence in an evolving privacy landscape".
Register to learn
PII related trends;
Why knowledge of the device is a powerful proxy for knowledge of the user;
Use cases for device intelligence; and
The importance of using a dependable device intelligence source vs maintaining an in-house solution.
Webinar details
Title: The strategic value of Device Intelligence in an evolving privacy landscape
Date: Wednesday, February 10, 2021
Time: 4pm (GMT) / 11am (EST)
There will also be time at the end of the webinar for Q&A.
If you think this webinar will be of interest to a colleague, please feel free to share this invitation.
We will be sharing a recording of this webinar to all registrants. So, if you're not available to attend and would like to receive the recorded webinar, register here.