India is currently undergoing a not-so-quiet mobile revolution, as an explosion in low cost feature phones is shaking up the market.
The rise in feature phone use in India can be attributed in no small part to the efforts of Jio, India's third largest mobile operator. Their promotion of Lyf handsets, powered by KaiOS, has seen them grow to over 17% market share in early 2018, with further gains likely.
According to the India Times, the flagship JioPhone is now the world's most popular feature phone.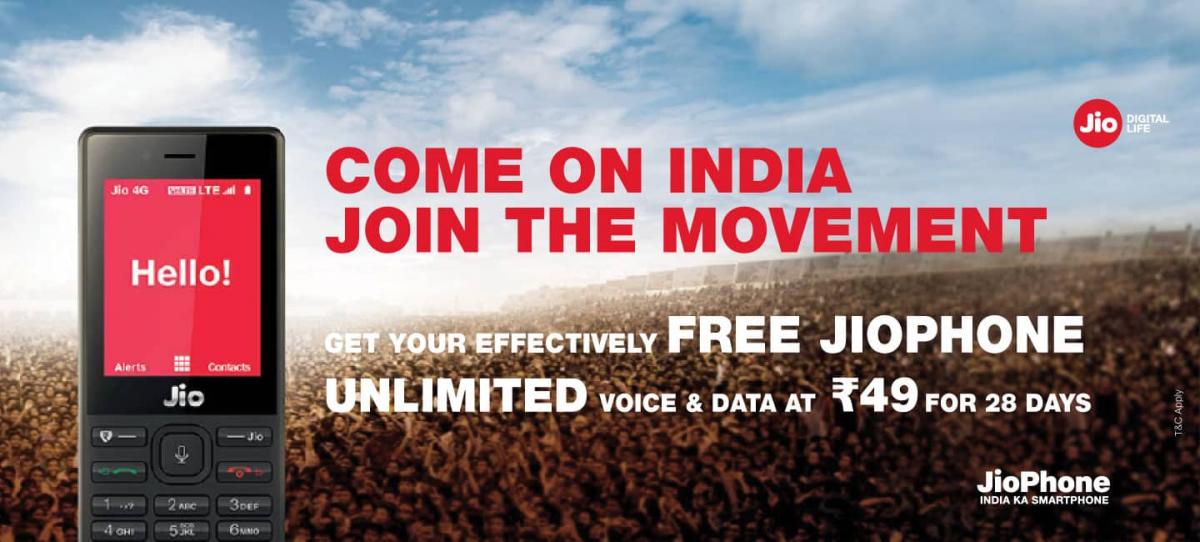 India is an interesting country when it comes to the mobile landscape, so let's take a look at the state of play in Q1 2018.
With over 775 million mobile phone users, there's huge potential for any entrant into the market. Knowing the trends, the most popular devices and smartphone screen sizes in India can give a vendor, content publisher or app creator the insights required to make a splash in a huge market.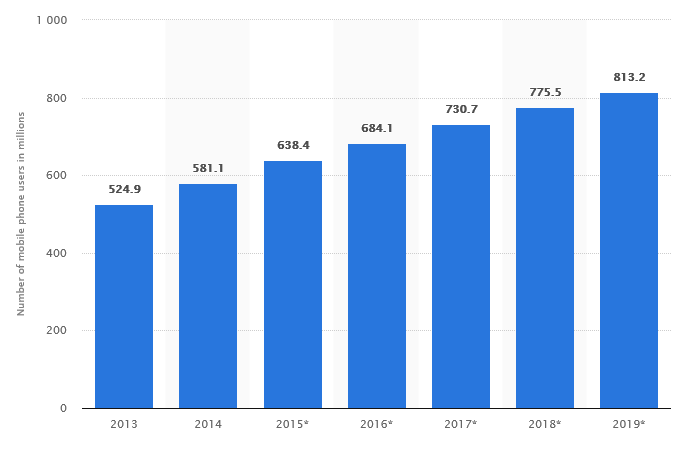 The most used device in India is not a Samsung or Apple
In a refreshing departure from the norm, Apple, and to a lesser extent Samsung, don't fare quite as well in India as they do across the rest of the globe.
In 2017, the iPhone 6 was the most popular device, but our data from Q1 2018 shows it's lost half its overall traffic share - down to 1.77% from 3.5%.
Samsung's Galaxy J2 saw a healthy gain, up 1.5%, while the Xiaomi Redmi Note 4 doubled its previous share. Where we'd expect to see the iPhone 7 - replacing the 6 - we instead see a whole range of Lyf Jio devices, nowhere to be seen in 2017.
| Country | Position | Phone model | Traffic Share |
| --- | --- | --- | --- |
| India | 1 | Lyf Jio F90M | 5.26% |
| India | 2 | Samsung Galaxy J2 | 4.59% |
| India | 3 | Xiaomi Redmi Note 4 | 2.99% |
| India | 4 | Lyf LF-2403N | 2.28% |
| India | 5 | Samsung Galaxy J7 Prime | 2.12% |
| India | 6 | Lyf Jio F61F | 2.09% |
| India | 7 | Samsung Galaxy J7 Duo | 2.05% |
| India | 8 | Lyf Jio F81E | 1.86% |
| India | 9 | Samsung Galaxy J7 | 1.79% |
| India | 10 | iPhone 6 | 1.77% |
Samsung is the most popular vendor
With the impact of Jio still being analysed by the incumbents, Samsung have surely breathed a large sigh of relief as their devices remain the most used in India.
For Apple, it's not so positive - they're now the fourth most popular device manufacturer, behind Samsung, Lyf (Jio) and Xiaomi, who've also been making some noises internationally on the back of a (slightly underwhelming) IPO.
There's a healthy share of traffic for Vivo, Oppo, Lenovo, Motorola and Micromax too, as the Indian mobile landscape continues to grow.
The most popular mobile operating system in India is Android
The sharp increase in feature phone use hasn't yet knocked Android off its perch as the most used mobile OS in India. With just under 70% of total traffic share, and five of the top ten most popular devices, it's a bit early for Android to worry about survival just yet.
Sitting in second with 17.2%, KaiOS is the underdog - David to the Android/iOS Goliath.
They announced the integration of popular apps and services such as Facebook, Twitter and Google in March, moves aimed to make their feature phones a bit "smarter". This didn't stop Google pledging to invest $22 million in its future. Great news for the creators, but for market diversity and the privacy conscious, it's yet another example of the relentless march of US ad-tech giants.
With the the massive growth in mobile users set to continue in India, it's no surprise Google "want to ensure that Google apps and services are available to everyone".
Of course they do. How very noble.
The most common screen size is 720x1280
The most common screen resolution in India during Q1 2018 was 720x1280, a spec which includes mostly Android devices - Lenovo, LG, HTC, Huawei, ZTE, Samsung - with a few Microsoft Lumia in the mix too.
1080x1920 is also mostly Android devices, with the iPhone 6 Plus and 6S Plus included.
Third on the list, 240x320, includes the most popular phone in India, the Lyf Jio F90M. Also using this screen resolution are a huge range of Nokia, Sony and KDDI devices, as well as other offerings in the Lfy/Jio range.
The most popular mobile browser is Chrome
Chrome Mobile is the most used browser in India, with almost half of the total share of web traffic in our data.
Firefox, Samsung Browser and Safari are next, with UC Browser and MIUI Browser claiming 3.8% and 3.4% respectively.
Firefox 48 leads the way when we drill down to browser versions, with 17.5% of overall traffic share. Released in March 2016, there's a huge gap between it and the most recent version, 61, released in June 2018.
Samsung Browser breaks up an otherwise Chrome/Safari top ten, while the tail end of the list contains Android Browser 4 and MIUI Browser 9.2.
Add device awareness to your platform
All advertising and web analytics solutions need a high-speed, accurate, low server footprint solution to detect devices.
For this purpose you can use DeviceAtlas device detection available as a locally-deployed solution.