Today, over 70% of American households are consuming internet-delivered content on their TVs. This provides a lucrative opportunity for advertisers wishing to target audiences via OTT and Connected TV (CTV) while they are in a full screen, lean back, immersive context. However, one challenge for ad platforms, particularly in the video space, is confidently knowing which platform their audience is consuming content on; how would advertisers know that a viewer is watching via CTV?
The potential to reach audiences via CTV is enormous. Viewership is growing rapidly (as mentioned above) and during the last week in December 2021, 183 billion minutes of CTV was streamed in the US. It's also estimated that there were 50 million cord cutters in the US last year — an increase of 103% since 2019. Completion rates for pre and mid roll video advertising have also been measured at as high as 98%, largely due to their highly contextual nature, in addition to the full screen, at home context.
With growth and engagement rates like this, ad dollars are piling into the OTT environment. This is good news for video ad platforms, as long as they can reliably target to audiences correctly.
Devices
OTT is currently characterized by a marked dependence on attached devices (Roku, Apple TV, Amazon Fire TV Stick, Google Chromecast, etc.) which consumers use to convert their standard TVs to Smart TVs. Another device category worth mentioning is gaming consoles that can connect to the Internet.
When we originally published this article in 2018, there were 562 Smart TVs and 685 STBs (set top box) in the DeviceAtlas database – now in 2022, those numbers have increased significantly to 3,549 and 2,164 respectively. Interestingly, the number of Smart TVs has exceeded that of STB devices compared with 4 years ago.
Complexity in digital advertising and measurement often stems from device capabilities and specifications, so the key to unlocking value is being able to recognize the device that the traffic is originating from – Smart TV, STB, games console, etc.
DeviceAtlas achieves this by performing a look-up of the user-agent and passing back to the server, which, when accurate, can identify the device being used. With the right techniques, this can be achieved in real time and at scale.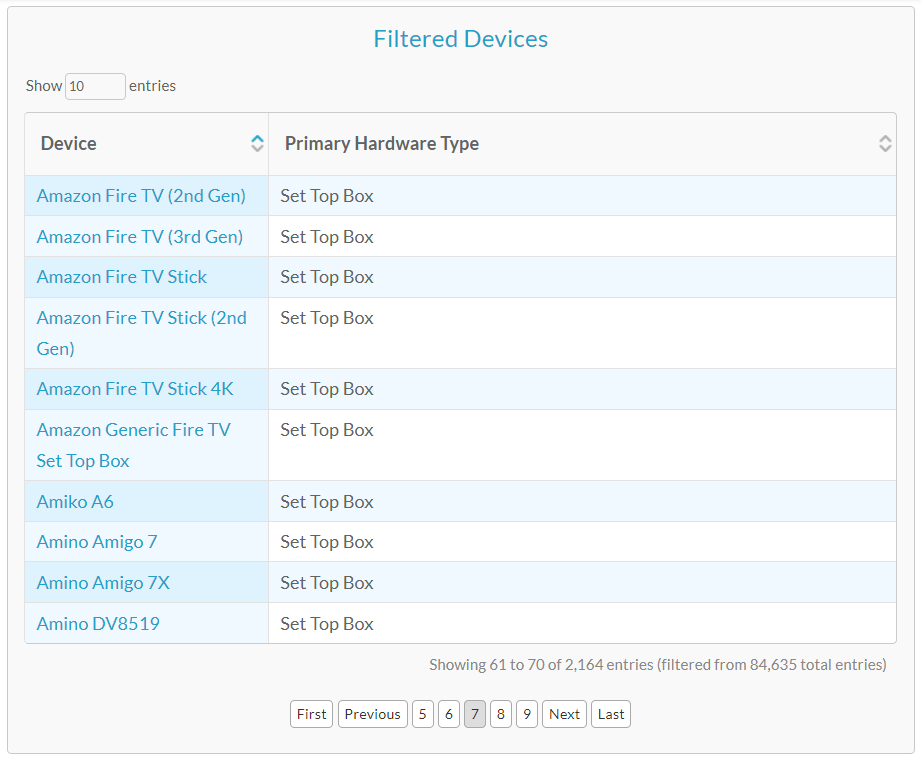 Ad tech players who see merit in this understand the importance of identifying and reporting on these audiences. Without device intelligence such as this, many companies are leaving revenue on the table, either by undervaluing inventory from this channel or misrepresenting it to advertisers bidding on it.
Forward thinking AdTech platforms on both the DSP and SSP sides are already immersed in the tools and technology necessary to execute self- serve OTT campaigns. DeviceAtlas is already helping many ad tech companies, across a range of use cases, including:
Identifying and verifying OTT originated traffic
Targeting campaigns to OTT viewers
Providing additional targeting criteria for advertiser
Decisioning criteria for ad delivery
Cross device measurement
 
Get access to a free, fully-working local version trial of DeviceAtlas.
Our high performance flagship product - the most complete data set.
DeviceAtlas's mission is to constantly track the fast evolving device landscape, as well as provide robust tools to build that information into your platform so you are constantly device aware. If you're interested in finding out more or trialing DeviceAtlas, please get in touch.
Device Type
Definition
Example devices
Set Top Box
An OTT device which connects a TV to the internet to provide smart TV functionality.
Chromecast, Apple TV, Roku, Amazon Fire TV etc
TV
A TV with an embedded browser or other means of connectivity to the internet.
Samsung, Sharp, Smart TVs etc

 

Games Console
A device that is designed primarily for playing games.
Xbox, Sony Playstation 4, etc
Media Player
A device which is primarily used for consumption of digital media.
Amazon Echo, Apple iPod Touch
Mobile Phone
A mobile device for which one of the primary functions is making phone calls.
Apple iPhone, Samsung Galaxy S22 etc
Tablet
A mobile device with a large touchscreen display.
Apple iPad, Amazon Fire 10, etc
Get started with a local device detection trial
DeviceAtlas is a high-speed device detection solution used by some of the largest companies in the online space to:
Optimize UX and conversion rate on mobile
Boost web performance
Target ads and analyze web traffic
Enable App analytics and advertising insights
Get started with a locally-installed trial to test DeviceAtlas at no cost.